CrashPlan: Download Multiple Files At Once From The Cloud [Android]
CrashPlan is a cross-platform cloud service (for Mac, Windows, Linux and OpenSolaris) that provides its users comprehensive online data storage and backup facilities. Already becoming popular among computer users, the service has just released its mobile app for Android users to offer them instant and remote access to their data. With CrashPlan's official client for Android, users can simultaneously download multiple files from the cloud to their device, open them using compatible apps and even share the best content with their friends.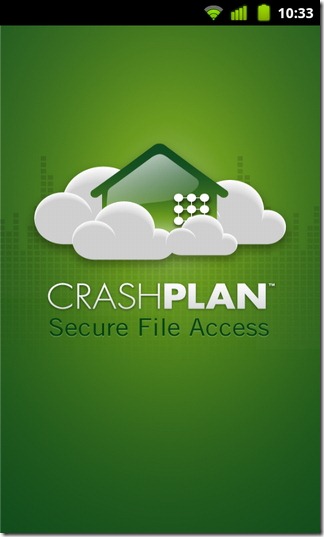 Not only do the various cloud services that are emerging onto the global scene provide you with the facility of storing your data on their online servers but most of them also support an official mobile client to ensure that you can remotely access your data from any location where access to the internet is possible. Although quite similar in their functionality, not all clients/apps allow you to download multiple files at once from the cloud. This is where CrashPlan comes in. Simultaneous downloading of files means that not only do you save yourself ample time but are also freed from the hassle of manually downloading every single file separately, one after the other. But that isn't the only thing that makes the CrashPlan app user-friendly. This can be so easily assessed by it's UI, which sports a very subtle design with only the required features on its homescreen. But before checking said interface and the data retrieval capabilities of the CrashPlan client, lets find out how to signup with said service and store data on its cloud.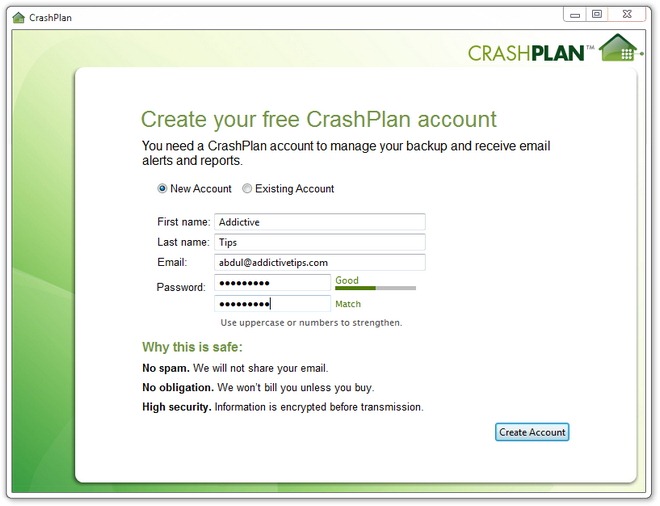 A new CrashPlan account can be easily set up through its desktop client which is available for free on the official CrashPlan website. You can easily find and download the desktop client for your OS from said website. After going through the routine installation steps, you need to back up some data through the desktop client in order to access it from the mobile client. Once you install the desktop client, feed in all the required details in the new account signup window and click on Create Account. From the application's interface, select the required directories/folder(s) on your computer which you wish to backup and click on the Start Backup button. Time required to backup selected content depends on your internet's connection speed.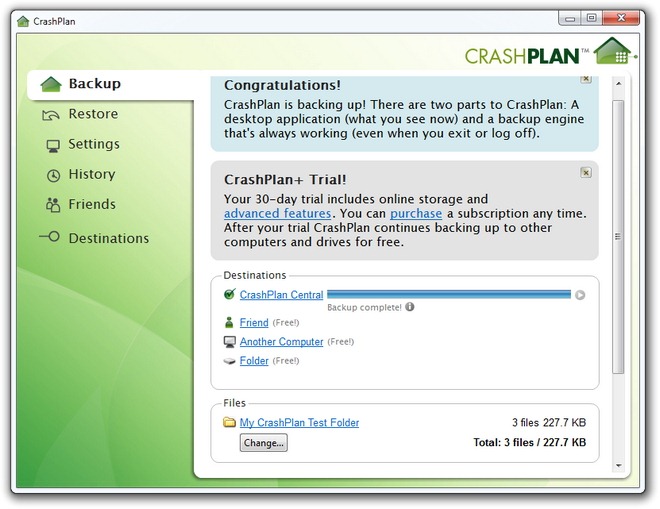 Now that you've got some data stored on the CrashPlan cloud, you can easily retrieve it from your device through the mobile client. For that, you need to launch the app and sign in with your CrashPlan account. From the app's homescreen, you can view all your computers and downloaded files. Along with displaying each computer by its name, the app also informs you about the time you last backed up data from it. On this screen, you can also find the exact amount of data (by number of files and file size) that has been downloaded on your device from the cloud. Tapping on a computer takes you to app's file explorer from where you can view all the underlying content and perform various aforementioned actions. In addition, you can update all the backed up data with just a couple of taps. To update all the stored content manually, tap Menu > Refresh. Tapping on a downloaded file displays a menu from where you can save, update, share and delete data along with viewing brief file details.
We successfully tested backing up and retrieving data through CrashPlan with its desktop client running on Windows 7 and mobile client running on our HTC Desire Z. Provided its available for free in the Android Market, CrashPlan is worth a try, especially if you're looking for quick and hassle-free remote access to your online data.
In case you're subscribed to the CrashPlan+ service, you can download CrashPlan Pro on your device to access your account.
Download CrashPlan for All CrashPlan Users
Download CrashPlan Pro for CrashPlan+ User