Create Android Apps For Your Favorite Websites In Just A Few Clicks!
Disappointed that your favorite website does not have a mobile web variant? Looking for a way to create an app for your own website without having to learn how to code? Look no further. AppYet is a web service that allows you to create, in just a few clicks, reasonably feature-rich and presentable Android RSS feed readers for websites of your choice. All you have to do is specify an RSS feed(s) for one or multiple sites of your choice and enter a name for the app. You can alter the package name and icon of the app as well. AppYet adds all information to an app template, builds your app and mails it to the email account that you used to register with the service. More after the break.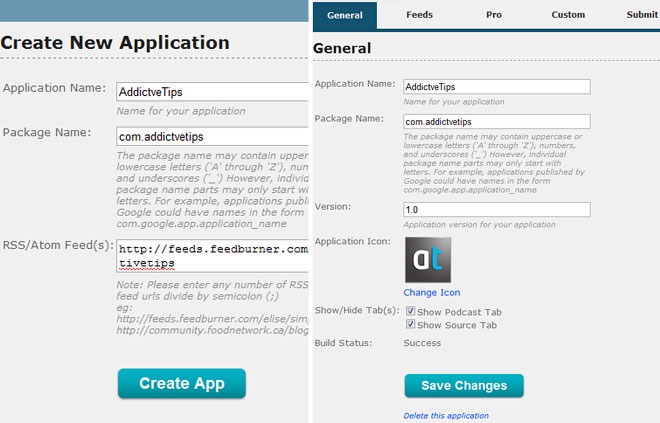 To begin creating apps with AppYet, head on over to the website (link provided at the end) and Sign Up for a new account. Once registration is done, simply select Create App from the top-left corner of the page. In the Create New Application page that follows, fill in the required fields and hit Create App. In the RSS/Atom Feed(s) field, you can enter multiple RSS feeds for multiple websites, separating one RSS feed URL from the other with a semicolon (;). From within the next page, you can change the icon for your app and make final changes before clicking on the Submit to Build button within the Submit tab.
After your app is successfully built, AppYet automatically mails it to your registered email account. If the same account is registered with your Android device, you can download the app directly to your device.
Alternatively, you can download it to your computer from the My Apps page. From the same page, you can edit created applications.
The result is impressive, to say the least. AppYet's RSS reader has a sleek yet simple interface that sports both a light and dark theme, automatic updates after user-defined intervals, the option to restrict background updates for articles and/or their images over WiFi, store image and podcast cache to the SD card, toggle and customize update notifications and back up both application settings and feeds to the SD card.
Another feature that caught our eye was the scrolling feed item bar that appears just above the task bar when an article/feed item is opened. You can swipe left and right across the screen to switch between feed items one by one but said scroll bar provides a much faster, more convenient way of doing so. And no need to worry about it cluttering the screen and ruining your reading experience. The bar disappears as soon as you swipe along the screen/scroll down.
The app allows offline reading and therefore, may take quite some time downloading images during automatic/manual updates for sites or blogs with post frequencies considerably greater than the update interval.
There aren't a lot of customization options as of this writing, except for the option to upload your own icon and hiding two tabs (Podcast and Source) in the created app's interface. App's created with AppYet are more than satisfactory but a little more flexibility in the app creation process would be icing on the cake.
While AppYet's Lite plan allows you to create apps and list them on Android app markets for free, it adds advertisements from AppYet to each. If you wish to remove said ads, add your own, list and sell your apps on Android app markets, you will have to upgrade to the Pro (one-time payment of $49) or Custom plan.
You can download the app we created during our test-run of the service via the link or QR code provided below. Remember, you must have the Unknown Sources enabled from within Menu > Settings > Application > Development Settings.
Download AddictiveTips For Android (Created With AppYet)