Create, Manage & Sync To-Do Lists On The Go With Any.DO [Android]
With so many various task management apps already present on the Android Market, each packed with some amazing goodies of its own, what features can a new entrant bring to the forefront to attract the users? Well, for one, better aesthetics, user-friendliness, home screen widgets, online synchronization of your tasks and may be, added customization.
Any.DO is a free task management app for Android that serves complete justice to aforementioned criteria. The app lets you create, prioritize and share your to-do lists on the go and in fine style too. The task management proficiencies of Any.DO aside, it's the visually appealing UI of the app that serves as one of its greatest strengths. It is clean, uncluttered and easy-on-the-eyes (very un-Android-like, to be honest).
The app features real-time search suggestions for commonly added tasks, option to input tasks via voice commands, easy shifting of tasks to a different day, support for adding notes, reminders and priority preferences with each task, custom notification tones, assortment of tasks by date, folder or by priority,  provision to backup the app's content to SD card and sync tasks with your email ID and an alternate theme. Update: Any.DO is now available for iPhone as well. A Link to its App Store page has been added at the end of the post.
Any.DO is among those handful of cross-platform apps that have landed on the Android Market before being released on the iTunes App Store. However, as the app's developer promises, it won't be long before iOS and web users get a taste of this awesome app.
On the app's homescreen, you can list out all your tasks pending for Today, Tomorrow, This Week or Later. While the microphone icon at the top can be tapped to feed tasks using voice commands, the text field and the small plus (+) icon can be used to search for and add a task to the list. Just start typing and tap on the appropriate search result suggested to you via the app to add it to the list. Once a task is added, you can easily drag it under the required day on which you wish to get it completed. The app even displays your contacts in the search results so that you can easily add call/text-based reminders for specific contacts to your to-do list.
You can tap a task to set its priority level (puts a red bar besides the task), move it to a desired folder on your email account, specify reminder settings, add personal notes (or supplementary tasks if you like) or share it with your email contacts.
To mark a task as 'Done', just swipe from left to right on it (puts a strikethrough on the text), and to remove it from the list, just tap the cross icon that appears on its right. However, if you're done with a bunch of tasks listed on the app and wish to clear them all at once, just give your device a nice little shake.
Did we forget to mention that the app sports a couple of handy homescreen widgets that keep you apprised of all your upcoming tasks? There's a Basic (3×3) as well as a Compact (1×4) Any.DO widget to choose from. To add a widget, long press on a vacant spot on your homescreen, select Widgets > Any.DO and pick a widget of your preferred size. The widgets support adding new tasks manually as well as through voice commands.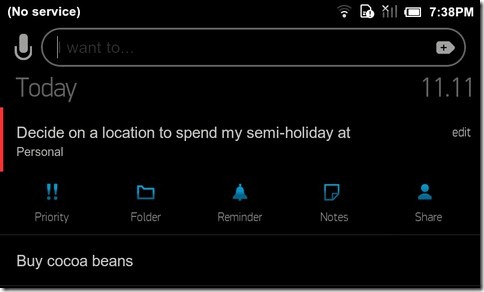 Update: Any.DO is now available for iPhone as well. The link provided below will take you to its App Store page.
Download Any.DO for iPhone, iPad & iPod touch