Create Vintage-Style Photos In A Few Taps With Old Photo For Android
iOS users have the luxury of resorting to Instagram – a beautiful and easy to use photo editing and sharing app that converts your minute-old photos into memories of the past, but as far as Android users are concerned, we currently have to make do with several third-party apps that bring all the exotic and vintage filters to the fore. Now there are quite a few image editing apps  that come with the support for image beautification feature, but standalone apps based on the concept of transforming fresh images into old-looking captures are few and far between. Therefore, if you're tired of looking at your most cherished photos in the same crisp and flamboyant colors? May be it's time to find out how your captured snaps would look like when they get transformed into the vintage style images of yesteryear. Old Photo is a smart little photo-editing app for Android that converts your snaps into rugged and fusty pictures and enables you to share the results with your friends over the internet.
Image editors and photo converters are not a new concept in the mobile app world but some tools are definitely worth trying. Quick, easy-to-use and quite effective, Old Photo for Android can definitely be categorized as one of the lot.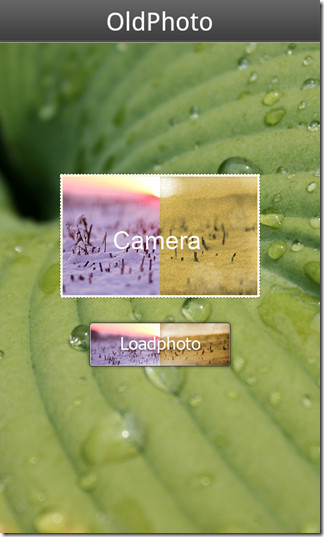 The app's operation is quite straightforward. Just snap a new photo from within Old Photo or import any image from the gallery and let the app cast its magical spell on your it. The app has an integrated image editor that allows you to tweak the brightness, contrast and saturation of your converted photos. The comparison made below should be enough to give you a good idea about the image transforming capabilities of Old Photo. You can save the converted image in all its vintage glory or just take a nice little peep at it and discard it thereafter.
The app might run a bit slow when working on a high resolution image but overall, there are no such issues associated with its performance and functionality. The app is fun to use and a great way of passing time if you like to play around with your snaps and images. Any image converted via Old Photo can be found within the Old Photo folder on your SD card. All in all, the effective image transformation option of the app, coupled with several handy image editing tools, account for a fun-filled photo editing on Android.
Download Old Photo for Android