Cyder: Install Cydia Packages/Apps From Desktop PC To Your iDevices
Cyder is a remote Cydia app installer client that helps you in installing multiple packages from Cydia Sources from your desktop. This application has a user friendly interface, allowing you to easily download, manage and move .deb files from Cydia sources to your phone. One backdrop of this application is perhaps its inability to add Cydia Source Repo URLs. This means that Cyder will only allow you to install packages from Cydia repos that have already been added through Manage > Edit > Add in Cydia on your iPhone or iPod Touch. The application offers multi-tabbed interface and allows you easy navigation through each tab's content.
To begin installing Cydia packages using Cyder from your PC to iPhone, first connect your iPhone / iPod Touch to the computer. Now launch Cyder and wait for the application to detect your iDevice.
Once your device gets detected, click on Get Sources From Cydia. This will allow the application to index all the sources you have already added in Cydia.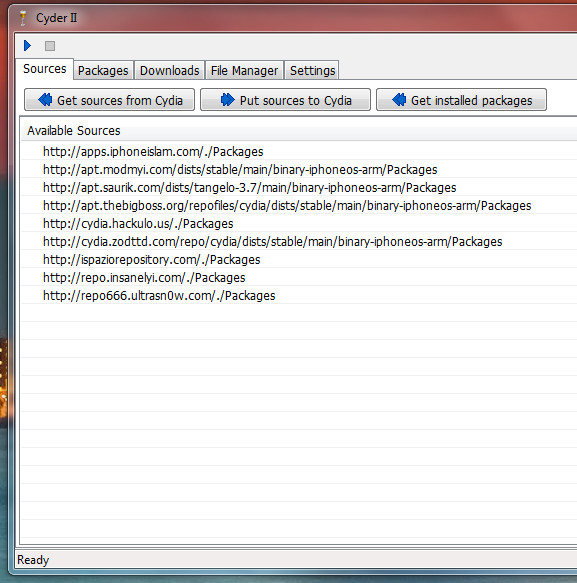 Now click on the packages tab and you will be able to see two paned windows with one side showing all the installable packages and the other showing package details like version etc. You can also use the Source drop down menu to install packages from a certain source. The sections drop down menu allows you to browse through packages that according to their categories. You can use Show drop down menu to filter your apps with updated and new as well as already installed.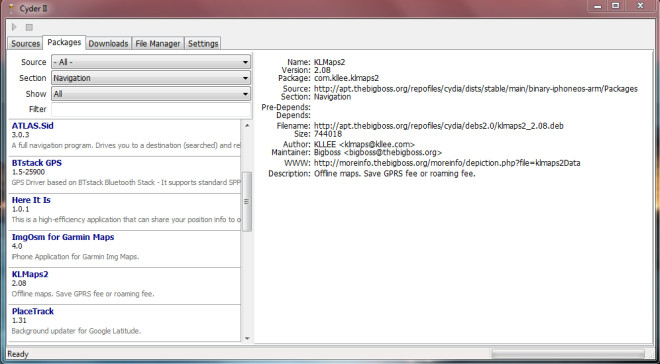 Select the package that you want to install. Simply right-click on the package you need to install and left click for the download context menu. Now click on install Download With Dependencies or Download This Package Only as per your desire.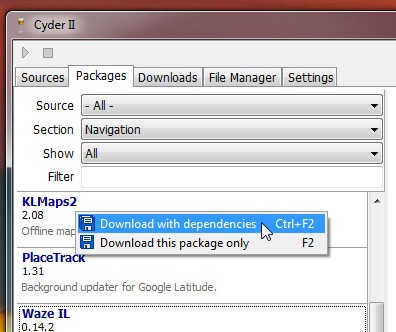 Once done, click on Downloads tab and you will be able to see your application queued. Right-click the application and select Download Selected from resulting context menu.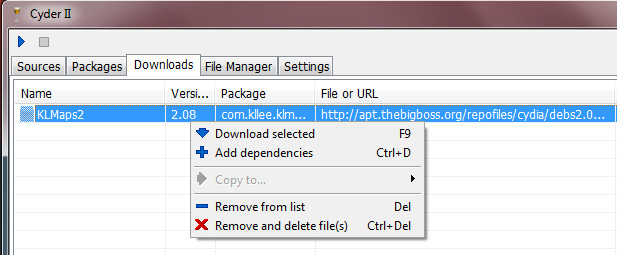 Now wait for the download to complete and click File Manager. You will see a two paned window with one side showing the recently downloaded app, and the other depicting Cydia Cache, Cydia AutoInstall and App Cake tabs.
Right-click the downloaded app on the right hand pane and hit copy Selected. This will copy your app in the AutoInstall folder located at /var/root/Media/Cydia/AutoInstall.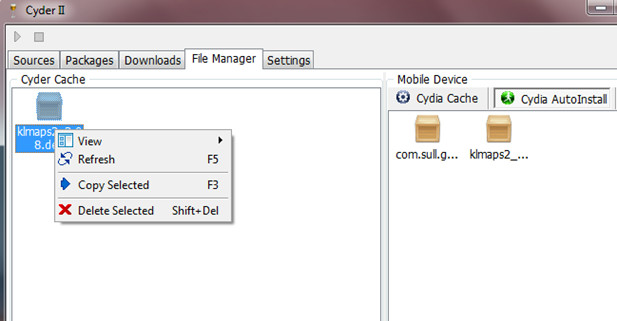 Now simply launch WinSCP (I used iPhone Browser) and navigate down to /var/root/Media/Cydia/AutoInstall in order to cross check if your application is present.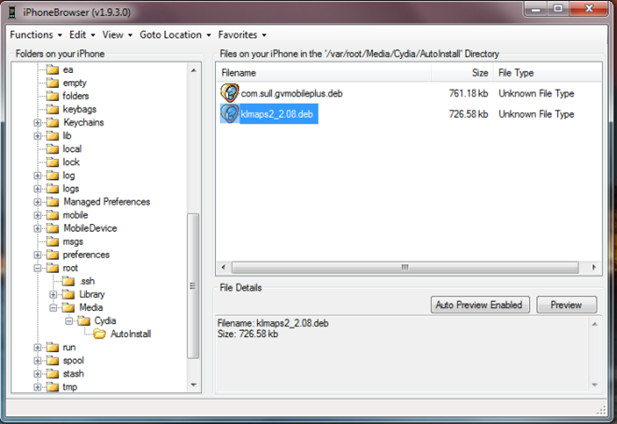 Once you have confirmed the presence of package file(s) in Cydia AutoInstall folder, reboot your phone for changes to take effect. In the screenshot below you can see both GV Mobile and KLMaps2 installed on my iPhone 3G running iOS 4.1.
Cyder is a great application if you have already added your repositories to Sources in Cydia. In our opinion, it could have been much better if there was an option to add Cydia Sources directly from this application. Testing was done on our Windows 7 x86 system.