Deck: Elegant Sidebar With Quick Toggles For iPhone [Cydia]
For as long as I have owned and used an iPhone, the first package that got loaded after jailbreaking has (invariably) always been SBSettings. I find myself almost addicted to this highly useful Cydia tweak, which not only eases a lot of toggles, but provides much more than than mere quick switches for various settings. For seasoned iOS-jailbreak users, SBSettings needs no introduction, and neither does the fact that the stock look of the said tweak is, at best, unattractive. That isn't really a problem, since there are a lot of themes available for SBSettings, but there's always room for improvement, isn't there?
Enter Deck, the first (and in my experience, only Cydia tweak) that can give SBSettings a run for its money. Granted, it can use a lot of work in its present state, but even then, the elegant sidebar dock that it adds for quick access to a lot of iOS functions and apps, the beauty with which the dock has been implemented, not to mention the heavy customization, makes Deck a worthy contender. Read on past the break to find out more.
Before I delve further into praises for Deck, please note that the tweak will set you back by $1.99 in the ModMyi repo of Cydia store, making it rather inaccessible to all users, but hey, not all good things in life come free. Deck basically adds a sidebar to your jailbroken iPhone, iPod touch or iPad, giving instant access to a variety of default features and toggles, as well as custom apps that can be triggered at the press of just one button.
The tweak is dependent on Activator, and hence, after installation, you'll first need to map an activator gesture with it. One drawback that I noticed at this point, was that Deck only launches when you're on the Springboard, making its usefulness a little hampered, but not by a huge margin. In vertical order from top to bottom, the tweak offers Hide Deck, Power Options, Launch Siri, Launch Music app, Launch Camera, Compose Menu, Custom Actions/Apps, and Toggles. While others are self explanatory, power options let you reboot, respring, turn off and lock your device, while with compose, you may start a new message, email or tweet instantaneously.
On the main Deck, the last option, toggles, let you immediately activate/deactivate WiFi, Airplane mode, Location, Bluetooth, Sound and 3G radios of your device. Toggles are rather limited, and cannot be customized on your own preference, so that's something that can do with some improvements.
Deck adds a huge menu in iOS' stock Settings app under Extensions, which will let you enable/disable the tweak, choose the Activator gesture, specify the music app to be launched when toggled through Deck, and map custom actions and applications. These are six functions/applications that you can map within Deck, accessible using the Star icon on the sidebar, for quick launching. The list there is quite diverse, too, and gives you access to almost all much-needed features on your iPhone.
The final panel under Deck's settings is Launch Application Presets, and it took me a while to figure out how it works. Using custom actions, you can also specify an app for execution, and that's how it works. Suppose that you map Action Six under Custom Actions to Launch Application (refer to the middle screenshot above). Then, whatever application you specify in the sixth slot under Launch Application Presets, will be launched when you use that Custom Action. The screenshot below gives an example of my custom actions panel, where the last slot is mapped to launch App Store, when used. This is one functionality that even SBSettings can benefit with, if it should get added.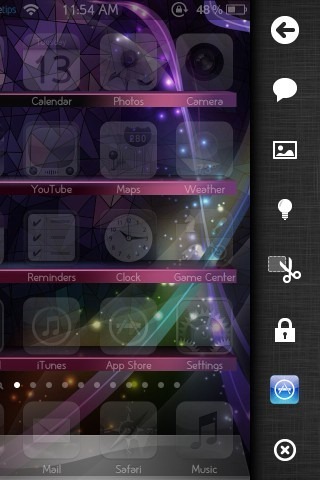 That's pretty much what there is to Deck. Coming from SBCoders, the tweak is fresh, and I firmly believe we'll see a lot of improvements and feature additions in future updates. The best part about this new entrant is the extremely polished UI and presentation, which rivals that of Apple itself, something of a rarity in jailbreak tweaks. The price tag at $1.99, although not a lot for what it's worth, would still prove to be a huge hindrance in dethroning SBSettings (even if all the missing functionality is brought in), but if you have a couple of bucks to spare, I highly recommend you give Deck a try, for you won't regret it.