Disguise & Secure Private Information With Calculator+ For Android
Smartphone/tablet users trust their mobile devices to carry plenty of information and data. Alongside carrying your media files, documents and app data, your Android device is also expected to hold the bulk of sensitive information that might include crucial passwords, online credentials, SSNs, financial data, bank account numbers and whatnot. To help users secure all such vital information form prying eye, Android Market offers plenty of data protection apps.  Calculator+ is a information vault of sorts that hides behind the guise of a run-of-the-mill calculator application. Hidden behind the app's interface are some very 'secretive' features, which enable you to store your private information within the app. Apart from performing basic numerical calculations, Calculator+ works as a private information keeper for you. Any personal information and data regarding your contacts, passwords, journals and notes can be saved in the application. The app has four free versions, one for each of the mentioned features comes in the form of a paid solution You can unlock the remaining features from within any free variant of the app for a small price or purchase the full version to have access to all mentioned features.
The interface of Calculator+ looks just like that of the native Android Calculator application and can easily fool anyone who is looking to extract some important information from your device. Who would ever dare finding some hidden pieces of information and that too from your 'calculator'? The operation is extremely simple. The user inputs some secret numerical codes within the app to initiate either of the four integrated features namely notepad editor, contact database, password keeper and a secret journal.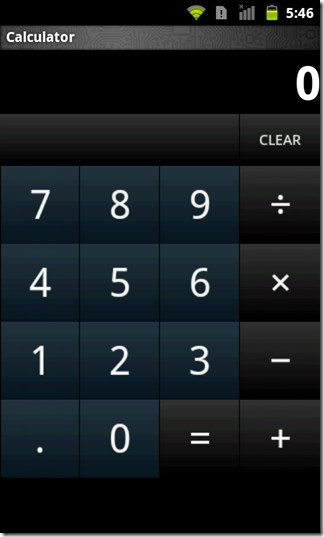 All the hidden instructions (codes) pertaining to each of the aforementioned features can be viewed by typing in 123456789 and pressing a hidden button to the immediate left of the CLEAR button. Each hidden feature has a separate 5-digit access code. For instance, the contacts feature can be accessed by typing in 65758 and pressing the disguised button.
The app is quite unique in terms of the features which it brings to the users and should be tried out especially if you are somewhat apprehensive regarding the security of the personal information sitting in your Android device. Calculator Pro Private Wallet is available in the Android Market as a paid app. It costs $0.99, and can be downloaded via the link provided below.
Download Calculator+ (Contacts Edition) (Free)
Download Calculator+(Passwords Edition) (Free)
Download Calculator+ (Notes Edition) (Free)
Download Calculator+ (Journal Edition)(Free)
Download Calculator Pro Private Wallet for Android (Paid)