Download And Install Skype 2.0, Cracked To Work On All Android Devices
Android users can now enjoy Skype 2.0 (complete with video calls and SMS support). Just hours ago Microsoft released this new version of the interactive app to the Android market. The new Skype 2.0 has quite an improved UI which keeps functionality and convenience in a perfect balance. Android users have long clamoured for the ability to make video calls via Skype, and now they have finally got it. But wait a minute, there's a big disappointment in the official release. The app only runs on 4 predefined Android phones. Google Nexus S, HTC Desire S, Sony Ericsson Xperia neo and Sony Ericsson Xperia pro make up the list. Even if you are already using Skype on your Android, but it is not among the lucky few who have been deemed eligible for the update, you will have to keep putting up with the original Skype app. At least, that is what the official take on things is. There is a hacked version of the updated app available that can be used on any Android phone capable of running older versions of Skype.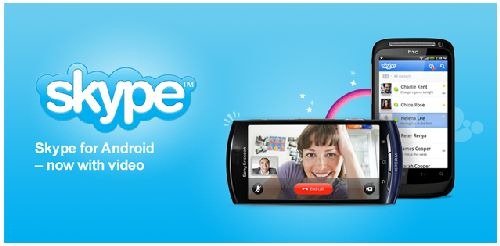 It just took a few hundred minutes for developers at VillainROM Official forum to develop a crack for the app and make it work on other phones too. The crack they found out was simple enough. In the lines of a code there was a matrix containing the names of the phones which will be able to support Skype 2.0. Modifying the array and adding more Android devices was all it took to solve the issue. So, it turns out the issue was never the phone specs, Skype just wanted to make some users feel special, or maybe the intention was good and the cracked app will prove to be a little unstable on some of the low-end devices. The cracked version of the app seems to be working on most of the phones including Samsung Galaxy S II and Evo 4G, with claims that it should work on all the devices. The app is certainly worth a try as Skype is said to be one of the most useful IM utilities available, add the cool new features to the mix and you might just be in for a treat.
For further details you can go to the official thread by VillainROM user pulser. If your phone does not have a front-facing camera, you might not find the update too useful, but it can't hurt giving it a shot nonetheless.
Here's the download link for the cracked version of Skype for Android. Enjoy!