Download Android Ice Cream Sandwich SDK And System Dump [Apps]
Today, the new Android 4.0 Ice Cream Sandwich was unveiled at Google and Samsung's Hong Kong event. Along with this new Ice Cream Sandwich update, Samsung and Google also announced flagship Ice Cream Sandwich bearer Galaxy Nexus phone. The Galaxy Nexus can be termed as a mini tablet with 4.65 inch screen, and comes packed with 1.2 GHz along with 1 GB of dedicated RAM. Although the phone will take sometime to be available for general public, enthusiasts have already unearthed Galaxy Nexus's complete system app dump. The apps that come packed in this dump are a mixture of system as well as Galaxy Nexus stock apps.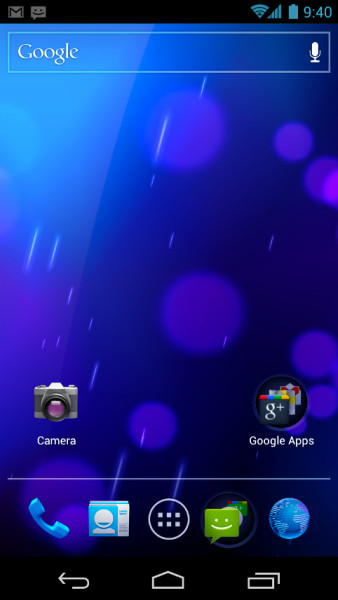 Here is a complete list of apps that you expect to find in this Galaxy Nexus app dump:
ApplicationsProvider.apk
BackupRestoreConfirmation.apk
BIP.apk
Bluetooth.apk
BooksTablet.apk
BrowserGoogle.apk
Calculator.apk
CalendarGoogle.apk
CalendarProvider.apk
CameraGoogle.apk
CertInstaller.apk
ChromeBookmarksSyncAdapter.apk
Contacts.apk
ContactsProvider.apk
DefaultContainerService.apk
DeskClockGoogle.apk
DownloadProvider.apk
DownloadProviderUi.apk
DrmProvider.apk
EmailGoogle.apk
ExchangeGoogle.apk
FaceLock.apk
Galaxy4.apk
GalleryGoogle.apk
GenieWidget.apk
Gmail.apk
GoogleBackupTransport.apk
GoogleContactsSyncAdapter.apk
GoogleEarth.apk
GoogleFeedback.apk
GoogleLoginService.apk
GooglePackageVerifier.apk
GooglePartnerSetup.apk
GoogleQuickSearchBox.apk
GoogleServicesFramework.apk
GoogleTTS.apk
HoloSpiralWallpaper.apk
HTMLViewer.apk
IMSFramework.apk
KeyChain.apk
LatinImeDictionaryPack.apk
LatinImeGoogle.apk
Launcher2.apk
LiveWallpapers.apk
LiveWallpapersPicker.apk
Maps.apk
MarketUpdater.apk
MediaProvider.apk
MediaUploader.apk
Microbes.apk
Mms.apk
Music2.apk
MusicFX.apk
NetworkLocation.apk
NfcGoogle.apk
NoiseField.apk
OneTimeInitializer.apk
PackageInstaller.apk
PhaseBeam.apk
Phone.apk
Phonesky.apk
PlusOne.apk
SDM.apk
Settings.apk
SettingsProvider.apk
SetupWizard.apk
SoundRecorder.apk
Stk.apk
Street.apk
SyncMLSvc.apk
SystemUI.apk
TagGoogle.apk
Talk.apk
talkback.apk
TelephonyProvider.apk
Thinkfree.apk
UserDictionaryProvider.apk
VideoEditorGoogle.apk
Videos.apk
VisualizationWallpapers.apk
VoiceDialer.apk
VoiceSearch.apk
VpnDialogs.apk
VZWAPNLib.apk
VZWAPNService.apk
YouTube.apk
For now, these Galaxy Nexus System apps are only meant for developers who can tinker with them to make ports on different Android devices. Please note that this isn't a flashable Zip file, and individually installing any app on your current device may end up in force closures or system instability. You can head to MyDroidWorld's Ice Cream Sandwich system Dump thread posted here to get the apps [via Android Police].
Apart from the system apps dump of the Galaxy Nexus, Google has made Android 4.0 Ice Cream Sandwich SDK officially available for general public. According to them, the all new and revamped Ice Cream Sandwich brings easy multitasking, enhanced notification features and completely customizable home/lock screens with resizable widgets. The good thing about this version is that virtual navigation bar has also been introduced, which will impart less stress on developers and users to get button remapping after porting/installing this update. Also, since the SDK is now available, you can also expect some yummy Ice Cream Sandwich getting ported to select/compatible Android devices very soon.