Corona A5 Jailbreak Information Update – Release Imminent [iOS]
Ever since redsn0w 0.9.10 was released last month, brining untethered iOS 5.0.1 jailbreak for A4 devices, all eyes in the jailbreak community have been set on getting the same iOS 5 untethered jailbreak for iPhone 4S and iPad 2, the currently-only-two devices running on Apple's A5 processor chip. If you own either of these devices, hold on tight, for the Corona A5 jailbreak is just around the corner – coming even sooner than you might think. Read past the jump for more details.
The legendary iOS hacker, @musclenerd, has tweeted information today that the jailbreak is "nearly ready to pop", awaiting only a few final bug fixes before it can be made available to public. He has also advised people to carefully read the entire post on Dev Team's blog, since this jailbreak is going to be a little different from the previous releases.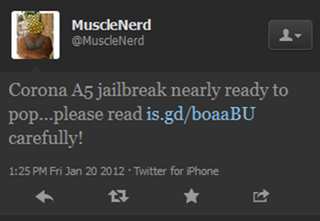 We thought it best to let our readers know in detail about what to look out for when the Corona A5 jailbreak comes out, thanks to the combined efforts of @pod2g, iPhone Dev Team and the Chronic Dev Team (better known these days as the "dream team"). Since all the technical difficulties have already been overcome, and the developers are now ironing out any bugs that might have survived, we can safely bet that a public release could be a matter of days, if not hours.
Precautions
Coming back to the Dev Team's blog post, the Corona A5 jailbreak will come with a flow of injection that has never been implemented before, and hence, might give birth to totally unforeseen and unprecedented problems. Users are strongly advised to backup your data, music, photos, and everything else of value to you, before attempting the jailbreak. As with any jailbreak, you adopt the method at your own risk. but doing so will minimize the possible damage, should things go bad.
Supported Firmware
Since Corona A5 jailbreak is going to be for iPhone 4S and iPad 2 only, there isn't much to say about supported iOS versions.
iPhone 4S: iOS 5.0 (9A334), 5.0.1 (9A405), and the "other" 5.0.1 (9A406)+
iPad 2: iOS 5.0.1 (9A405)
If you own an iPhone 4S and are waiting for a software-based (ultrasn0w) unlock, you are highly advised to stay at iOS 5.0, since the 5.0.1 baseband may not receive a crash any time soon. However, if you've already updated to iOS 5.0.1, you're further advised to stay with the 9A405 build instead of adopting the 9A406 version of iPhone OS, since that will prevent your baseband from upgrading further. As the window is still open for 9A405, it's advisable to downgrade before it's too late.
Jailbreak Tools
Finally, we look at how the jailbreak will be released. In order to ensure maximum flexibility, the dream team will release the Corona A5 jailbreak in multiple forms. Quoting from the Dev Team's blog post:
Chronic Dev have incorporated the overall flow into a GUI that runs on your Mac or PC
iPhone Dev have incorporated the exact same flow into a command-line interface (CLI).  This will allow us to help users through individual steps of the jailbreak manually, to both help the user and help improve the overall flow.  Although the CLI will also allow the user to perform the entire jailbreak from beginning to end, we anticipate it will be more useful in debugging the occasional errors.  The CLI currently has over 20 individual options (in addition to the single "jailbreak" option) that should be useful during debug after the GUI release.
Once all the bugs in the flow are worked out, we'll also incorporate it into the redsn0w GUI (but still leave the CLI freely available too).  In order to maximize the chances of the jailbreak working for everyone, the redsn0w GUI will use native Apple iTunes libraries — this technique is slightly different than how the Chronic Dev GUI handles communications, and should provide nice combined coverage for all the odd computer configurations out there.
That's about it for now. Stay tuned with us, and keep checking back for our detailed screenshot-based guide as soon as the jailbreak is released. For now, we're keeping our fingers crossed, eagerly waiting for the public release of Corona A5 jailbreak.