Download Greenpoison iOS 4.1 Jailbreak For iPhone 4 / 3GS
Geohot released Limera1n just two days back on 10/10/10 spoiling the hard work of Chronic dev team. The team was heartbroken and left with two choices, either use the SHAtter bootrom exploit and implement Geohot's bootrom exploit which was used in Limera1n, or go ahead and burn two bootrom exploits at once by releasing GreenPoison.
Burning two bootrom exploits at once means Apple will patch them quickly, thus slowing down future jailbreaks. So the team went with the decision to implement SHAtter bootom exploit instead. Today Greenpoison is out with this exploit which jailbreaks the following devices:
iPhone 4 / iPhone 3GS
iPod Touch 4G / iPod Touch 3G
iPad
As of now only Windows version of Greenpois0n is available. Mac version will be out soon.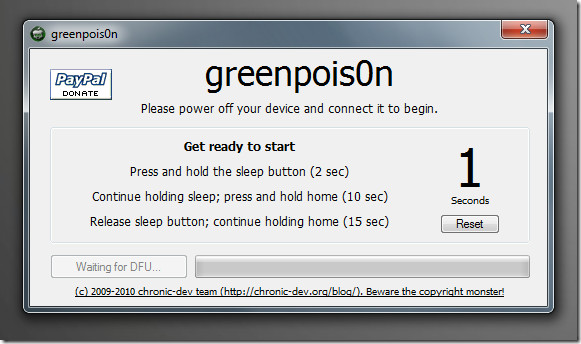 Download Greenpoison to jailbreak iPhone 4, iPhone 3GS, iPod Touch 4G, iPod Touch 3g, and iPad.