Sn0wbreeze 2.0 Work In Process
[Sn0wbreeze Ver 2.0.1 has been released with direct download link added at the bottom of the post under update ]
iH8sn0w, author of jailbreaking tool Sn0wbreeze, has recently tweeted regarding the progress he has made in compiling the new version of Sn0wbreeze i.e. Ver 2.0.
Here is the tweet for reference: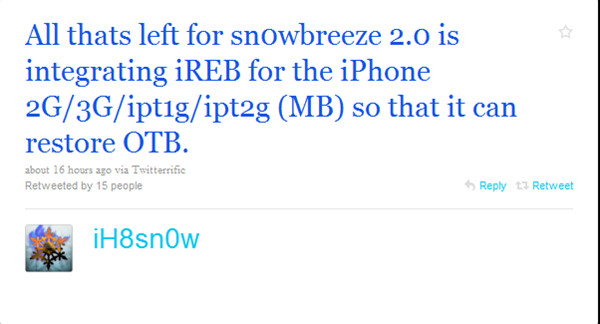 Here are the detailed features of Sn0wbreeze Version 2.0 as per iH8sn0w:
sn0wbreeze 2.0 has gone through some very very nice changes in the past weeks. This post will basically sum it all up.
——–
What is New?
——–
* Check for Updates (Check for the latest sn0wbreeze release in seconds!)
* All firmwares since 3.1/3.1.1 are supported. (No longer will you need to download old sn0wbreeze releases to build old firmwares!).
* iREB Integration (Allows iPhone 2G/3G/iPod Touch 1G/2G (MB Model) to be restored from a non pwned state on ANY firmware.)
* Its not going to brand your device anymore. (No more "Enjoy your jailbroken device!" as your lockscreen).
* I rewrote the Warnings so that people can understand it a bit more.
* I added a timer to the Warning screen so that people will have to wait to click "I UNDERSTAND"
* Improved DFU Instructions (It now detects when it actually is in DFU!)
———–
What 2.0 is NOT:
———–
* A Jailbreak for iPhone 3GS devices without being already jailbroken by blackra1n/redsn0w/sn0wbreeze/PwnageTool.
* A Jailbreak for the iPhone 4
————
Why Can't someone just make an app that hacktivates the iPhone 3GS/4 so I can use jailbreakme?
———
In order to hacktivate, you need to patch lockdownd, it manages all of the services in the device. The only way to patch it is by replacing it with a hacktivated one. But the only way to replace it as far as I know is by having an iboot exploit to exec an unsigned ramdisk to replace it.
The only thing I could see happening is if someone caches a Phonebook SIM Activation record and uses ideviceactivate from posixninja's repo. Then uses jailbreakme, then replaces lockdownd via afc2.
——-
sn0wbreeze V2.0 is expected to hit sometime next week.

~iH8sn0w
The best thing about this release is perhaps the ability of iPhone 2G/3G to restore to stock Firmware. We will keep you updated on the progress made and provide a download link along with step by step instructions on jailbreaking and restoring your iDevices using Sn0wbreeze Ver 2.0.
Update: Sn0wbreeze Ver 2.0 and 2.0.1 have been released for public download. The 2.0.1 update for sn0wbreeze has been released in order to fix a small bug in Ver 2.0 and you can download it from here. The complete step by step guide will be posted soon and I will further update this post with a link to the jailbreak guide. Sn0wbreeze Ver 2.0.1 jailbreak iPhone 3G/3GS and iPod Touch on iOS 4.1.