Download TinyUmbrella 4.1.12 To Save iOS 4.1 SHSH Blobs

Someone just pointed out that you are even able to make calls when your iPhone is in emergency mode which gives Apple a valid reason to release iOS 4.1.1. Although this  release might sound innocent enough to fix emergency call bug, but according to the jailbreak teams etc, this can actually fix Greenpois0n and Limra1n exploit. But there is no need to worry about for now and you must backup your SHSH blobs for iOS 4.1 if you ever want to make it back to this firmware version. TinyUmbrella 4.1.12 is now released and this user-friendly application allows you to save your SHSH blobs with ease.
This version of TinyUmbrella can also be used for kicking your iDevice out of recovery and you can also to change your devices name.
Here is what official TinyUmbrella Blog has to say about the new release: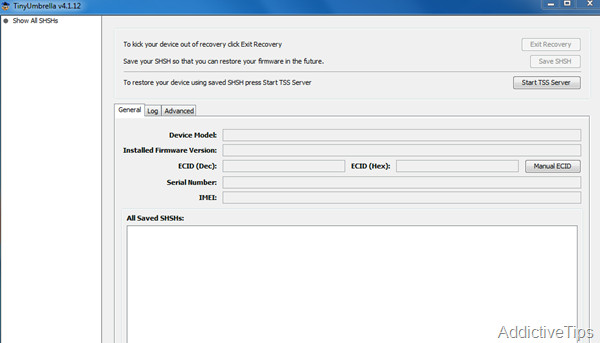 TinyUmbrella 4.1.12 is available and has many bug fixes and features. Hope it helps! BTW Check out the FAQ above or in the quick links under HELP!

Save All SHSHs – Click on 'Show All SHSHs' and the Save SHSH button changes to Save All SHSHs
Exit Recovery – Right Click on a recovery device and 'Exit Recovery'
Change device name – Double click on a Known Device to change its name.

Preferences:

When connecting a device, prefer my custom device name over the name set on the device – This preference will use the name(s) you set over the name found on the device. Useful for folks with many friends that have phones named 'iPhone'
You can download TinyUmbrella for OSX, Windows OS, Linux Here. The core source is also available in the download link that we just gave, in case you were looking to improvise with your own skills.