Dream Job Finder For Android Helps You Find The Best Jobs Around You
Tired of looking for a dream job for yourself in newspapers and/or over the internet? A utility and a companion as useful as its name suggests, Dream Job Finder is a job finding app for your Android device that won't let you remain worryingly 'unemployed' for any longer. With Dream Job Finder, you can easily find a suitable job near your location via an integrated online job search utility powered by LinkedIn. The app allows you to search for the preferred job with the help of relevant keywords, company name and job title. Locate the most appropriate job posts in and around your locality through GPS or browse through the list of all available jobs meeting your exact search criteria. To use Dream Job Finder, users must have a LinkedIn account.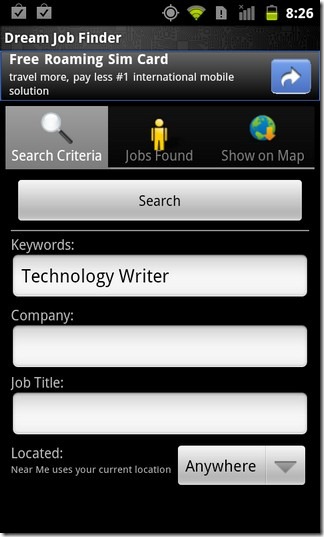 The usability of the app is as simple and purposeful as it gets. Users are not required to perform any undue configurations to set up their accounts. Instead they can simply launch the app, feed in their preferred job-related keywords and search for the best available jobs for themselves without any hassle. Dream Job Finder uses LinkedIn's API to find jobs that match the user's query. Users can save as many search results to their LinkedIn account as they like. The interface of the app comprises of three different screens that provide search options, a Jobs Found list and a Show on Map feature. As evident from the above, each job posting can be viewed on a list as well as on map. Once all the fields are filled in, the app displays a list of all the available jobs relating to the input data. Users can view a brief description of any selected job while detailed information can be viewed from the LinkedIn jobs page on the website. The saved/ bookmarked jobs appear under the Jobs Found tap on the app's main interface.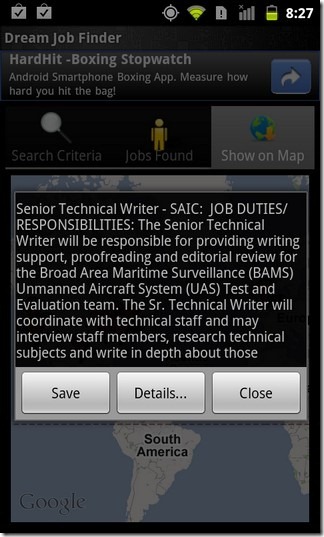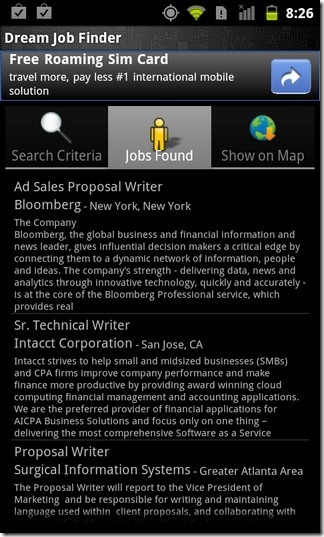 Users can configure the app to filter the job search according to their own region or they can search for the preferred job from all across the globe. So grab this extremely handy tool from the Android Market and set up a perfect launching pad for your professional career today with a job of your liking! Dream Job Finder is available free of cost, and works perfectly with Android OS 2.2 or higher. You can download Dream Job Finder from the provided Market link.
Download Dream Job Finder for Android