DropSpot: 2-Way Remote File Transfer Between Android & PC Over Wi-Fi
Just last week, we covered an Android app called EZ Drop that allowed users to remotely/wirelessly transfer files from a desktop browser (computer) to an Android device over the internet without involving any connectivity cables or remote desktop clients in between. Quite a useful concept, but certainly with a significant restriction; it only lets you send files from the computer to Android, and not in the opposite direction. Fresh to the Android Market, DropSpot is an app that fills said void quite nicely. DropSpot sports two-way wireless file sharing between computer and Android device, and vice versa, over a shared Wi-Fi network. All you need to do in order to start sharing data is open the app on your device, feed in the IP address provided on the app's homescreen in any contemporary web browser on your desktop, log in using the passcode (if any), and you're good to go. The web interface of the app supports sending files in batch from computer to device via simple drag-and-drop. Similarly, you can use said feature to move your device's locally stored files to required directories with utmost ease.  Using the DropSpot mobile client, you can configure and even remove the authentication code.
DropSpot's mobile app as well as the web interface sport minimalistic looks. As mentioned earlier, the mobile app, when launched, displays an IP address that you need to feed in to your computer's web browser (address bar) to establish a connection. Tapping Menu > Preferences on the app's homescreen takes you to another screen from where you can enable/disable Authentication, choose the Authentication Type (user-specified code or a randomly generated one), and specify a desired Login Code.
Remember that your computer and mobile device should be hooked to the same Wi-Fi network for the app to work effectively.
Provided you're using the app under some authentication code, the desktop browser would prompt you to feed in the exact code to proceed. Once past that, you can see your device's local storage listed on the browser interface in the form of directory structure. The right side of the interface displays your device's free storage space, and the Choose files button that you can click to send as many files as you like from computer to your device. You can also drag and drop files from the computer into the the box provided on the browser interface to share file(s).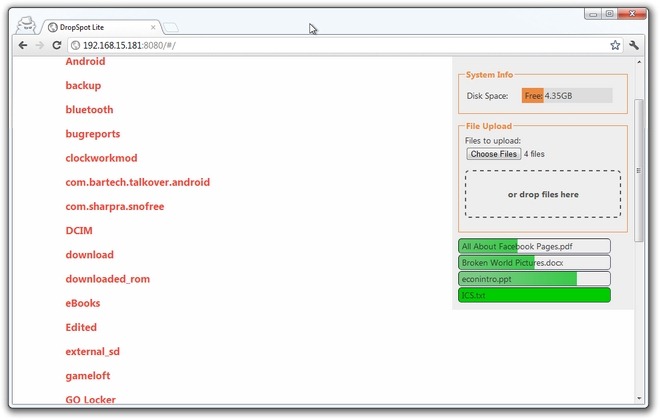 To transfer files from device to computer, all you need to do is navigate to the required directory using the browser's file explorer interface, and click on the file that you wish to download to your computer. Unlike the uploading mechanism, you can download only one file at a time. Hovering on a file displays a couple of controls on the left hand side that let you delete or rename that particular file. From the same browser interface, you can also create a new folder on your device's SD card (or within a parent directory). The web interface of DropSpot also sports a good-looking native image explorer using which you can view and download photos stored on your SD card's directories.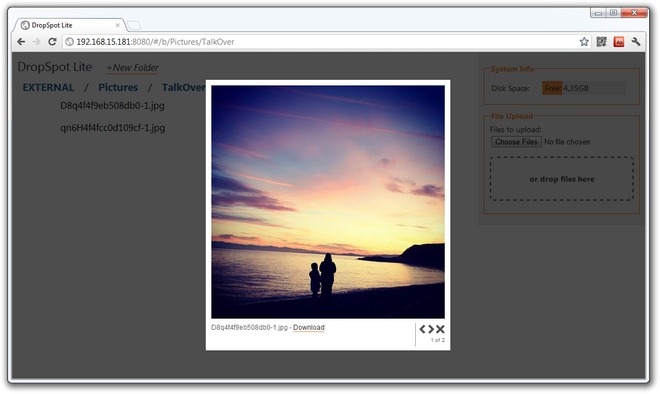 All in all, a very handy tool to have, especially if you don't like carrying your USB cable, or relying on remote desktop clients in order to transfer data back and forth your computer and Android device.
Now, to the relatively bitter part(s). The maximum size of an individual file that can be transferred via DropSpot is 5MB. To lift this restriction, you can upgrade the app for a mere $1.99, and enjoy limitless file sharing without involving any cords or hectic desktop server installations in between. Users interested in upgrading the app can press Menu > Upgrade from the app's homescreen. On this note, we would also like to suggest a few improvements for the mobile app's interface. As of now, there is way to see from the app's interface as to what files have been transferred. So, a native file explorer, and some sort of indication for file transfer (via status bar notification, may be) would be welcome addition. Moreover, there is currently no way to quit or log out of the app, which simply means that your device's content will be accessible via the browser for as long as the device remains connected to the network.