DualRomX2 – Boot Upto 4 Custom ROMs On HTC Droid Incredible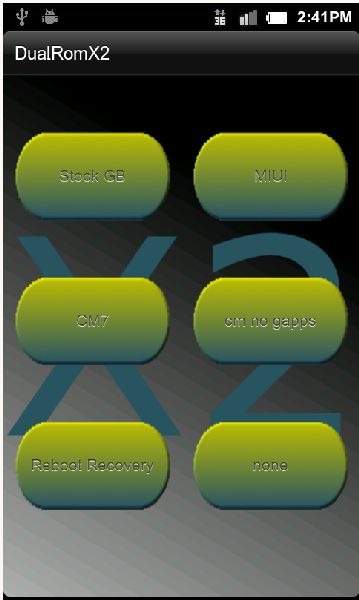 If you are a custom ROM addict and can't wait to try out any ROM that you hear about, then it's likely that you spend a large amount of your time flashing new ROMs and switching between different versions. With new ROMs coming out like drops of rain, don't you sometimes wish that you could switch between ROMs just with a wave of your hand? Sounds like magic, right? Not quite. This feat is now possible in the real world if you own a Droid Incredible, making the whole experience of changing ROMs in your Android phone much more streamlined and fast.
XDA's recognized developer Conap's new app by the name of DualRom X2 lets you keep four different ROMs on your eMMC. It has already been tested with a number of ROMs and the developer has claimed that it should work with almost all the ROMs available to Incredible users. DRX2 won't even change your eMMC file system type from FAT32, so it's a win-win situation for you. You can have an additional ROM installed right on your phone too. All this liberates you from the headache of deciding which ROM to choose, now you can choose all of them! Raring to go? Here are the installation and usage instructions.
Disclaimer: Please follow this guide at your own risk. AddictiveTips will not be liable if your device gets damaged or bricked during the process.
Instructions:
Please note that DRX2 works only with CWM3 and above. First of all, get the zip files of all the 4 ROMs downloaded to your system.
Make sure that your device has root access. See our post on rooting HTC Incredible.
Now you need to set up different folders for each ROM where each .img file of the ROM will be loaded. This can be done by flashing "createimageforrom1.zip" file. Flashing the said file creates an img file on your eMMC.
Repeat step 4 for all the 4 ROMs, flashing each zip file one by one. Thus you will have 4 folders named ROM1, ROM2, ROM3 and ROM4.
Make a backup of your phone as instructed in our guide on creating a NANDroid backup.
Go to the eMMC folder of the ROM you want to install (for example ROM3), and flash rom3installer.zip, choosing the slot you want it installed to.
Reboot your phone. And repeat step 7 for any ROM you want.
Once the ROMs are installed, you can simply tap the name of any ROM to switch over to it.
This app gives an incredible utility to Incredible users, but things can go wrong in this somewhat complex procedure, leaving you with just a paper-weight for a phone.
To view further details and comments, visit XDA forum thread.