Enable 1080p HD Video Recording And Enhance Sound Capture On Galaxy S II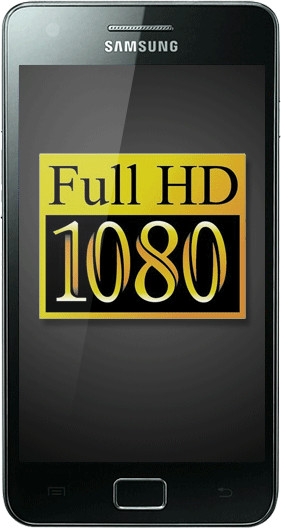 Samsung Galaxy S II is quickly becoming one of the most favored Android handsets among users. The main reason for this likeability of this particular handset is it's powerful processor complimented by easy customizations, hacks and modifications. Lately, XDA member Potatoman,  has released a modified version of Camera.apk for this phone that will enable you to increase video bitrate in 1080p HD and 720p. And another awesome fact is that now you will be able to use your phone's camera or camcorder at lowest battery level and record audio at a whooping 1920 KBPS instead of crappy 64 KBPS.
Here are the features of this mod straight from the developer himself:
The apk replaces the stock Camera.Apk in the Galaxy S II, and has the following features-

– Allows use of the camera & camcorder at any battery life
– Records Audio in 192kbps/44.1Khz quality (CD Quality) rather than stock (64kbps/16khz quality)
– Increased Video Bitrate in 1080 and 720p modes* (See 2nd post for info and download link for this version)
– Optional No Sounds versions (for Standard and Highbit versions!). All of the features, None of the noise! Yes, even the autofocus noise is gone!
– HyperX-'s SuperHighBit version now available (See 2nd post for info and download link for this version)

I have left the settings for the 320×240 and 176×144 resolution modes as stock, so they will be the same size and with the same audio. This is to ensure video messages are kept within the file size limits
So let's cut the rant short and see how you can enable 1080p recording along with enhancing audio capture using modified camera.apk.
Please note that this hack / mod is only applicable and tested on Samsung Galaxy S II
The first step is to make sure that you have root on your Samsung Galaxy S II. You can follow the guide posted here to acquire root on your device.
Now download Root Explorer from Android Market.
Once the root explorer is downloaded and installed on your phone, download the hacked camera.apk file from here, unzip the modified apk and copy to /system/app of your phone. You will first need to copy the file on your SD Card and then move it to the said location using Root Explorer or any other file manager.
After you have copied the file to /system/app, then rename the already existing camera.apk as camera.apk.bak. This will disable the current camera app and keep it as a backup. In case the new app creates problem, you can rename the old app to camera.apk for restoration purposes.
Now rename the modified apk file you earlier copied to /system/app to Camera.apk.
Once done, exit the Root Explorer and tap on camera icon.
Install the app following onscreen instructions and you are all set to capture video at 1080p HD.
In case you are stuck or need more information regarding this app, then head to the official XDA thread link provided in Step 3.
Disclaimer: Please follow this guide at your own risk. AddictiveTips will not be liable if your device gets damaged or bricked during the process.