Enable 1080p HD Video Recording On Motorola Atrix 4G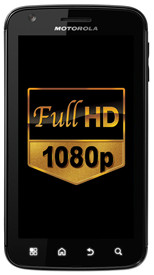 If you have an Atrix 4G and are a fan of recording videos on the go, you must be wondering when will Motorola's future update for the camcorder arrive to let you record videos at 1080p (High Definition). If you have lost all hope, Android developers in South Korea have just solved the problem for you. A modified Camera app has been released that now allows you to record videos at 1080p. More on the app and how to install it, after the break.
The app is designed to replace your original Camera.apk file in order to function, and has been released for three firmwares, 1.42, 1.57 and 1.83. To clear any confusion, all three have separate files.
Here's how to install it on your Atrix 4G.
Disclaimer: Flash a custom ROM to your phone at your own risk. AddictiveTips will not be liable if your device gets damaged or bricked during the process.
Requirements:
Instructions:
To begin, download the APK file depending on your firmware from the links above.
Connect your phone via USB and make sure USB debugging is checked in Applications > Settings > Development.
Through a root explorer, change the name of OlympusCamera.apk and OlympusCamera.dex to OlympusCamera.apk.bak and OlympusCamera.dex.bak.
Now open command prompt, navigate to the folder where the OlympusCamera.apk is placed and enter the following commands:
adb remount

adb push OlympusCamera.apk /system/app
When done, disconnect your phone from the PC and reboot into recovery and wipe cache and dalvick cache. Finally, reboot your phone.
That's it! Ideally this should work for you as it has for a lot of people, if you find yourself unable to record videos at 1080p or the camera app messes up, revert back to the original files that you renamed.
For updates and queries, visit the forum thread at XDA-Developers.