Enable Apps2SD On Samsung Galaxy Ace S5830 Using ClockworkMod Recovery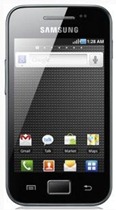 The 158mb internal memory on the Galaxy Ace can quickly become a real pain for a user fond of utilizing the maximum apps on an Android cell phone. Almost most old, and budget oriented devices are plagued by this very issue where the internal memory runs out and you find yourself wondering which app to delete in order to make a new one. Luckily for the users of the Galaxy Ace, these worries can now be bid farewell to if your device is already rooted and has ClockworkMod recovery 5 installed. Unlike before where users had to partition the SD card on the PC using programs like gPart, this can now be done through the recovery.
Not rooted? No ClockworkMod recovery installed either? Well, if you're contemplating on that, you should see our guide on the top 10 reasons to root your Android device, and also, what is ClockworkMod recovery and how to use it.
This method will also take use of an app called S2E and once all the partitions are made, we'll proceed with the final touch, that is the app itself. So here's what you need, and how you can enable Apps2SD on your Galaxy Ace in no time.
Disclaimer: Please attempt this guide at your own risk. AddictiveTips won't be responsible in case your device bricks or any other damage occurs due to this method.
Requirements:
Instructions:
To begin, backup all your data on the SD card onto your computer.
Reboot into recovery by holding down the Power button along with the Home button.
Navigate to Advanced > Partition SD Card and select the ext size that you want to allocate for your apps. 1GB should be more than a decent partition size for your apps.
Select 0M as the Swap size.
Copy back your data to the SD card and reboot the device to boot into the OS.
Install the S2E app and run it.
Check the Applications box and Dalvic Cache as well.
That done, simply reboot your device.
The reboot will take some time because of the Dalvic Cache being moved to the SD card. Now on whenever you install something, it will be installed to the SD card leaving the internal memory untouched. But do note, that some widgets or applications installed to the SD card may not work and will in fact have to be moved to the internal storage. Launcher apps are a prime example of such sorts.