Enable External USB Drive Support on Motorola XOOM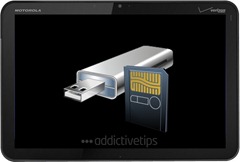 Although, the Motorola XOOM comes with a built-in microSD card slot, it is currently not usable for the end user till the planned software upgrade in the second quarter of 2011. Not that the 32GB on board memory available is any less in terms of storage, but if you still want to have more, if a friend has brought over a video on a USB storage device that you immediately want to see on your tablet or if you just want to copy off a song to a friend's mp3 player, we bring you an easy method to enable external USB drive support on your device.
Disclaimer: Please follow this guide at your own risk. AddictiveTips will not be liable if your device gets damaged or bricked during the process.
Requirements:
Procedure:
Download the above mentioned boot image.
Extract the image file from the ZIP downloaded and place it in the same folder as your ADB and Fasboot binaries.
Connect your device to the PC
Start ADB shell and run the below mentioned commands in succession:

adb fastboot bootloader

fastboot flash boot rootboot.usbdisk.img

fastboot reboot

Once device is rebooted, use Root Explorer to navigate to /etc/ and find the file called 'vold.fstab'.
Gain Read/Write permissions by tapping on the 'Mount r/w' button at the upper right corner.
Tap and hold on the device and let the menu open, scroll down and choose 'Open in Text Editor'
Type the below mentioned text at the end of the file.

dev_mount usbdisk /mnt/usbdisk auto /devices/platform/tegra-ehci

Press Menu button and choose Save & Exit.
Reboot the XOOM.
The altered boot image creates a '/usbdisk' folder on the system, which gives VOLD a location to mount the plugged in USB device and give you access to the files. The XOOM has been tested to support USB Storage devices up to 8GB's however it may not support devices larger than this due to the power requirements of these devices. Nevertheless, USB access on the XOOM is something you'd rather have and not need than need and not have.