EZ Drop: Wireless Data Transfer Between PC & Android Over Internet
If you're looking for a simple, swift and no-nonsense way of wirelessly transferring files from a computer to your Android device, then you must try EZ Drop. Using a combination of the EZ Drop website and mobile client, you can instantly import required files from computer to Android over the internet (Wi-Fi & 3G/4G). No need to set up a desktop side server/client, configure complex IP addresses, register for user accounts or logging in to any services, and more importantly, no restriction on the type of files that can be shared. Instead, all you need to do is open the app on your device, provide the 4-digit PIN displayed on the EZ Drop website, and you're good to go. Another good thing about sharing data via EZ Drop is that it lets you transfer multiple files simultaneously. All files shared with EZ Drop are initially shared on the EZ Drop cloud from where they get transferred to your Android device at a blazing speed.
Wireless file transfer solutions are available in abundance for Android, but as mentioned earlier, most of them require extensive configurations of some sorts in order to start the sharing mechanism. The super high data transferring mechanism of EZ Drop aside, it's the option of sharing data over an internet (3G/4G/Wi-Fi) connection that alone sets it apart from all other previously reviewed alternative remote file sharing solutions, such as Android Manager Wi-Fi, FTP Droid and AirDroid; all of which require the computer and the device to be hooked to the same network. However, this is not the case with EZ Drop.
Once the correct PIN is provided, the connection is automatically established between the desktop browser and the Android app. Next, hit the upload button on the website, pick as many files as required, and wait for the transfer to complete. Files received via EZ Drop are saved in the /sdcard/EZ Drop folder on your device's local storage.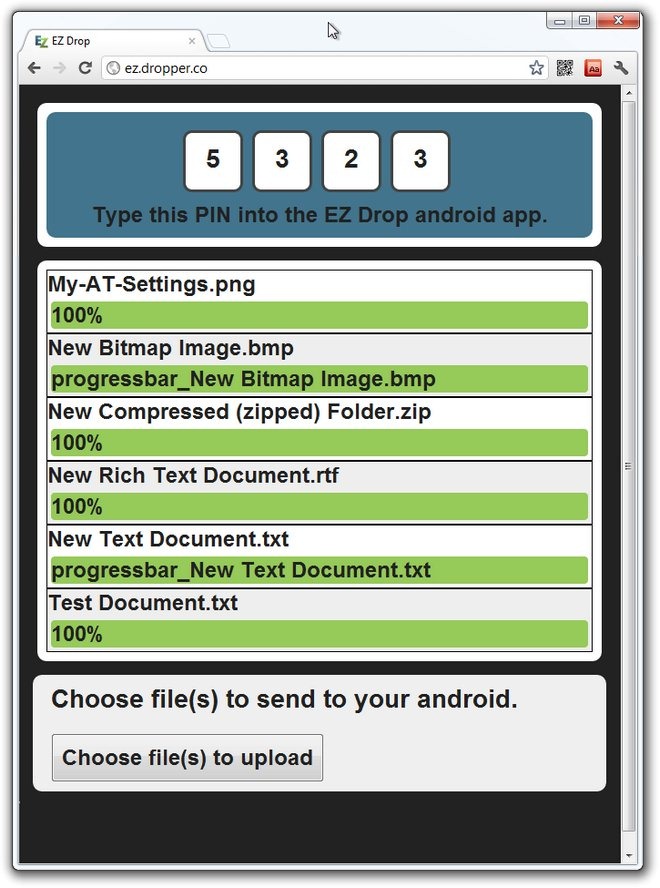 That's pretty much about what EZ Drop has to offer to the users right now, but one can expect the future update of the app to bring reverse sharing option as well (from Android to computer). In addition, the interface of the app could be given a second thought to make it a bit more appealing and user-friendly. Still, in its current form, EZ Drop is a handy tool to have in your device, especially if you wish to import your favorite files from a computer without requiring any wires/cords connection in between.
Update: The app has been updated with some noteworthy changes including the introduction of reverse-sharing option, ability to display the connection status and file-sharing speed, and the option to select the default download folder on the SD card.