Fast Camera Provides 800 Photos/Minute Time Lapse Photography [iOS]
Time-lapse photography was considered only the prerogative of high-end digital cameras just a few years back, but with the advent of smartphones and the technology being pushed into them, its quite possible now to create time-lapse photos even on smartphones. If you think that taking 800 pictures in a minute might sound insanely fast, then think again as that's what this new iOS camera app is all about. Simply labelled Fast Camera for iPhone & iPad, it  can take pictures at an extremely fast rate (no, its not the speed of light folks), at up to 800 pictures in a minute, and that too with superior quality. As its more of a norm these days, it lets you capture images using both the front and rear camera, and you can also switch between them instantaneously, without stopping the photo shoot. And did we mention that the application can take pictures of the finest quality, i.e., up to 8 megapixels? Could it get any better? Keep reading to find out.
The mainstay feature of the app is that it starts taking pictures as soon as you open it, perhaps that's why the name Fast Camera. Though you can also set it to manual from within the settings menu. The app facilitates you to create some quick time-lapse sequences. Or in other scenario, you might not miss that very moment you wanted to capture. Once you've captured all pictures, you can review them before generating the final camera roll. This also helps in removing unwanted images before you save them. As stated earlier, you can take pictures using both the front and rear camera, and can also switch from rear to front or vice versa while snapping. Furthermore, photos may be captured in both portrait and landscape orientations.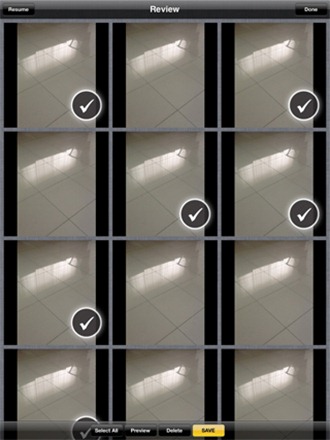 Go to the preferences menu by tapping the icon in the upper-left corner of the screen, from where you can change different settings of the app, like Camera Resolution for both front & rear, and default camera. You may also set the delay time between each shot that the app takes. Other settings include Auto-On, Thumbnails Size (Small and Large) and Timer option.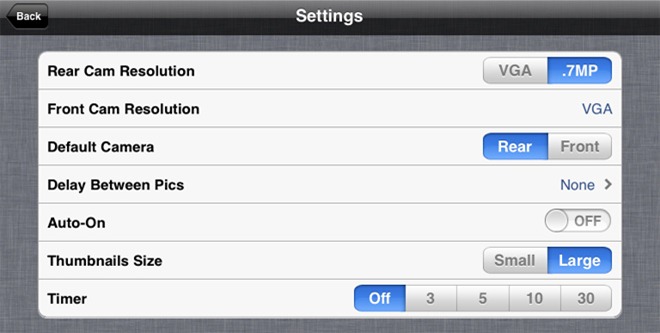 Time-lapse photography lovers will definitely give this app a warm welcome. Not only is the capture speed super fast, but also, the image quality is likewise remarkable. Even though not so feature-rich, all in all, a great free iOS app to try.