Find Steel & Iron Objects Using The Metal Detector App For iPhone
An iPhone is a lot of things for users. You can use it as a normal phone, gaming platform and camera, among various other things. One thing which an iPhone, iPad or iPod touch cannot usually become is a metal detector. Even the idea sounds a bit unrealistic, the reality is that iOS devices do have the necessary equipment which can make it useful for some basic metal detection, all that is needed is an app which can utilize these resources in an optimal way. Metal Detector is one such app, which stands out from the crowd of fake apps due to one simple reason – it actually works. We are not saying that it will be able to pick out a hairpin in a lady's handbag, but it is pretty useful if the target object is somewhat large and isolated.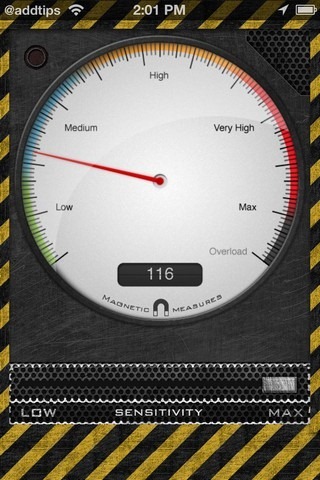 Like any normal user, we were a but skeptical about Metal Detector at first, but after installing it and touching our iPhone against a doorknob, the app had us convinced. Using the Metal Detector app is really simple, and it comes with a minimalistic interface, consisting of just one screen. When you launch the app, you will be greeted by the app's analog meter, with a digital one incorporated within. There are many sensitivity levels on offer in Metal Detector, and you can change the level by tinkering with the slider at the bottom of the screen. If the slider is set to Low, only large objects will be picked out while the opposite will be true for Max sensitivity.
To scan an object, just launch the app, choose the sensitivity level and hold your iDevice near the target. You will see that if metal is contained in the target, the needle on the meter will move higher and the digital meter attains a larger value. If the analog meter reaches the High value mark, a red light will come on, accompanied with a beeping sound. For ever higher metal amounts, the iDevice will begin vibrating as well. It is up to the users to decide whether the app is worth a download or not, but all we can report is that Metal Detector actually works and is available as a free download from the App Store link given below. If not as an actual utility, you can give it a try as a fun app.