Fix Error 37 When Restoring Jailbroken iOS 4.1 With Sn0wbreeze Using iTunes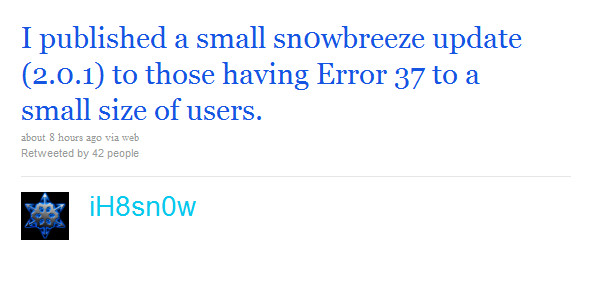 Sn0wbreeze V 2.0 from iH8sn0w is finally out and many of us have successfully jailbroken our iPhone and iPod Touch using it. However, some of the users are facing error 37 whenever they are in the middle of restoring to custom software with iTunes.
It appears that Snb0wbreeze Ver 2.0 had some issue and is now replaced by a minor update V 2.0.1, which eradicates error 37 and let's you restore the custom Firmware you cooked using Sn0wbreeze without any problem.
Here is a step by step guide on fixing error 37 after trying to restore your iDevice with Sn0wbreeze cooked custom IPSW.
The first step is to download Sn0wbreeze Version 2.0.1 and save it on your desktop.
After you have downloaded Sn0wbreeze, it's time to download iOS 4.1 Firmware For iPhone and iPod Touch.
Now launch sn0wbreeze and follow this guide posted here to create a custom jailbroken iOS 4.1 using Sn0wbreeze. [The version is different but the method is same].
Once you have the custom IPSW ready, connect your iPhone or iPod Touch to the computer.
Now launch iTunes and restore your phone normally with custom IPSW.
There won't be any error 37 this time.
Disclaimer: Please attempt this guide at your own risk. AddictiveTips won't be responsible in case your device bricks or any other damage occurs due to this method.
Thanks, Taimur @ RedmondPie