Fix Windows Phone 7 Update Problem Caused By ChevronWP7 Updater
If you manually updated your Windows Phone 7 device to the NoDo update via Chris Walsh's ChevronWP7 Updater, there are chances that you are having or may have trouble getting the subsequent OTA updates on your device. And when we say trouble, we actually mean the update will fail. Such devices are being referred to as Walshed phones and are getting  the error code 81080005 when trying to update. For those with Walshed phones, Chris Walsh himself has developed a fix to help you get back on track. More on it after the break.
There were already warnings by Microsoft that forcing an update via the ChevronWP7 Updater could cease any future OTA updates for such devices. So when the May security update for WP7 was released, there were quite a few handsets that updated without any trouble at all, but there were a few who couldn't update at all receiving the 80180048 error code as mentioned earlier.
So while Microsoft looked away from all those who had this issue (well, they had warned us not to tinker with our phones in unofficial ways), Chris Walsh has finally come to the rescue.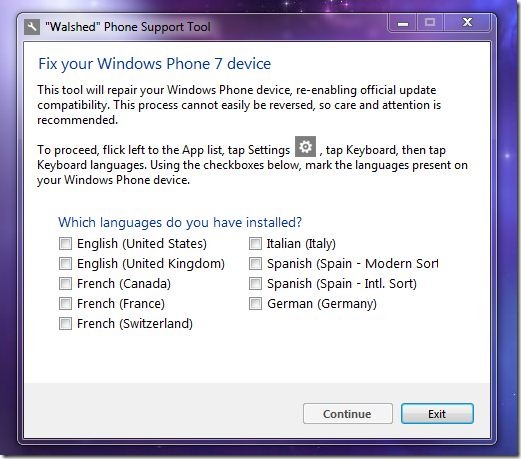 The fix is simply a very small application called Walshed Phone Support Tool that you need to install along with Windows Phone Support Tools to get it running.
UPDATE: Chris Walsh's blog that was hosting the tools seems to be no longer online. Furthermore, the exploit used by the ChevronWP7 tool to jailbreak Windows Phone 7 devices has been patched by Microsoft in later updates to the operating system. Thus, ChevronWP7 and all its related hacks don't apply anymore. The dead links have been removed.
Requirements:
Instructions:
Once you have the Windows Phone Support Tools installed extract the Walshed Phone Support Tool zip file and run WPST.exe found in the extracted folder. In the Window that pops up (as shown in the screenshot above), carefully select the languages installed on your device. Don't make a guess, it is important that you only check the ones that are actually installed on your device. Now hit the continue button and simply follow the on-screen instructions.
---
To check if the fix worked for you, try updating your device via Zune and if it does so, so you can breathe a sigh of relief. In case didn't, no need to be depressed, it's likely that the update isn't available for you just as yet because your carrier may not have approved it.
[VIA BLOG.WALSHIE.ME]