Flash 10 Beta Player 2 Released For Android
We have received some confirm reports from our sources that Flash player has been updated for Android. The new Flash 10.1 for Android is version 10.1.72.4 The exact functionality and updates in this Flash version are still awaiting official announcement, though we can safely deduce that it aims to fix some of the issues experiences in the previous version and bring support to more devices perhaps, along with significantly improved video playback performance based on user feedback. Read on for more information.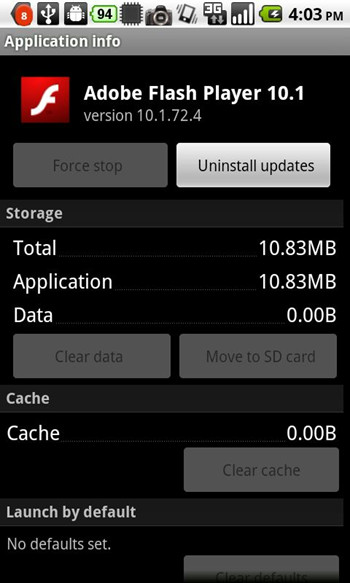 The debate on whether flash is necessary or even a good idea on mobile devices or not is hot, as Apple continues its commitment to not bring flash support to its iPhone, iPod Touch and iPad devices, while Android continues to support the platform.
Community members have released at XDA a leaked version of the latest Adobe Flash Player in form of an .apk file and so far, the users who have downloaded and installed it have not reported any issues. Instead, users have claimed that Flash video quality on their Android phones has drastically improved and so has the Flash component loading time over edge, 3G and Wi-Fi after they upgraded to the new version.
The new flash version has also fixed the audio streaming problem as one user claims. We don't have any official Google or Adobe word on this until now but you can download Flash 10 Beta 2 for Android and manually install to see if it really does what is reported here.
To install it from the APK, you must transfer the APK file to your device's storage, enable 'External Sources' from Settings > Applications and then tap on the APK file using any file manager. We use ES File Explorer but you may use any file manager of your choice for the purpose.
You can also search the official Flash version in the market because the file name is the same with version upgrade. You can cross check the flash version number that we have mentioned earlier.