Flash / Install ClockworkMod Recovery On myTouch 4G With ROM Manager
ClockworkMod Recovery for T-Mobile myTouch 4G has just been added to ROM Manager. If you like to root your device and plant a custom Android ROM of your own choice, then Clockwork Mod Recovery is a very basic necessity. The release time for a compatible version of recovery image points to the fact that permanent root has been achieved on myTouch 4G.
Although you can install Clockwork Mod recovery on a temporary rooted device, but the real essence will only come in play once you have a permanent root access. I don't believe that you will be able to flash a custom ROM even with recovery image flashed on a temporary root accessed myTouch 4G.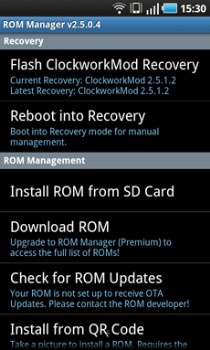 Ok, let's cut the talk short and flash Clockwork Mod Recovery on your myTouch 4G with ROM Manager:
it is important to make sure that your phone is connected to  stable Wi-Fi connection with internet access.
The first step is to gain temporary root access on your phone through VISIONary. You can follow the guide posted here for this purpose.
Launch Market on your phone and download ROM Manager on your myTouch 4G.
Once the download and installation of ROM Manager is complete, launch ROM Manager from Home / Launcher Screen.
Now tap on Flash ClockworkMod Recovery which is the first option in ROM Manager.
Confirm your phone model as myTouch 4G in the model confirmation prompt.
Now is the time that you let ROM Manager install / flash ClockworkMod Recovery on your phone. Please be patient as it will be a bit time consuming.
Once done, tap on Reboot into Recovery. There you go! your phone will now boot into ClockworkMod Recovery.
We will also suggest you to wait for the final VISIONAry release candidate, which will give you a one click root access before trying to implant any custom ROMs through recovery.