Flash / Install OverClock Kernel On Samsung Droid Charge Via Recovery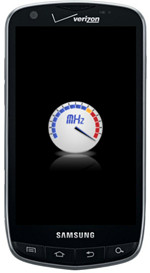 The Droid Charge has just received an OC kernel named PeanutButta Jelly Time that lets you push the device up to 1.6 Ghz. It has been released and developed by XDA-Developers forum member imnuts and comes with tweaked voltages. More on this awesome kernel and how to install it, after the jump!
The stock maximum voltage for the CPU is 1300mv, and 1500MHz and 1600MHz are both at 1500mv, so it's heavily over-volted at the top end. By default, the system will boot to 1000MHz and you  will need to set the speeds you want in the Voltage Control App. Detailed features of the kernel can be seen below:
Undervolted.
Voodoo lagfix available – Thanks supercurio.
Updated compiler flags.
Linaro Toolchain for cross-compiling.
Battery hack to allow for non-OEM Batteries – courtesy of SirGatez.
init.d support.
SDCard speed tweak (via init.d script).
Upstream EXT4 Patches.
VFAT Patch.
TCP and CFS Tweaks to help data/performance.
V(R) IO Scheduler.
Auto-root on boot.
Voodoo Sound fixed.
Removed OnDemand.
Added FIFO and BFQ IO Schedulers.
Added tun.ko and cifs.ko.
Overclocking – Use Voltage Control App to adjust clocks and voltages.
Disclaimer: Please follow this guide at your own risk. AddictiveTips will not be liable if your device gets damaged or bricked during the process.
Requirements:
A rooted Droid Charge. See our guide on rooting Android.
ClockworkMod recovery installed. See our guide on installing ClockworkMod recovery on the Droid Charge.
Instructions:
To begin, download the kernel from the link above and copy it to the root of your SD card.
Reboot into recovery and wipe cache and dalvick cache. (Making a nandroid backup is not advised as ClockworkMod recovery is unstable at restoring for now.)
Navigate to install zip from sdcard > choose zip from sdcard and select the kernel copied to your SD card.
Once the kernel is flashed reboot your device.
That's it, your device should now boot up and you're free to tinker around with your CPU frequency and voltage. For updates and queries, visit the forum thread at XDA-Developers.