Flipboard For Android Now Available For All Devices [Review]
Once the official Instagram Android app finally hit the Google Play Store last moth, most users (including me) set their sights on another popular iOS-exclusive app, Flipboard – an elegant, customizable magazine style news and social feed reader. Just last week, along with the announcement of the much-anticipated Samsung Galaxy S III, came the news that Flipboard will be debuting on Android as an SGS III-exclusive app. Now, unless you're one of the lucky few to-be owners of said device, chances are bleak that you'll be getting a taste of Flipboard on your Android any time soon. That said, XDA member, Valcho, seems to have completely different plans, as he has managed to pull the APK of the much sought-after news reader from his Galaxy S III (a test unit, presumably). So, albeit not officially, Flipboard for Android is now available for download, and is ready to give Google Currents a good run for its money in the race of the best news reading Android apps. Update: A fully tablet-optimized version of Filpboard for Android is now officially available on the Google Play Store. We've added a link to its Play Store page at the end.
If you've ever had the chance to witness the beauty of Flipboard running on an iOS device (especially the iPad), you'll appreciate the elegant flipping of pages. For many, it is easily the best medium of news reading on a mobile device. Apart from presenting you with heaps of content gleaned from several preloaded news sources, Flipboard also supports fetching latest news stories from a wide array of online news service providers of choice. You can associate your Facebook, Twitter, Instagram, Google Reader and other accounts with the app to sift through the latest news and your social media updates from under the same roof.
You have complete control over the app's cover page and subsequent pages, and once you log in to the app using your Flipboard account, you can use the same configuration across all devices.
Using the app is quite simple. All you need to do is swipe from bottom to top on the app's main (Cover) page to sift through added news and social media sources. Using the same gestures while within a news source switches between news item. While reading an article, you can swipe from left to right to head back to your Flipboard cover page.
To manage all the news content and your social accounts, just hit the search tab at the top. From this screen, you can also search for a news item/source of interest, and navigate to a desired news category to add the relevant source to your personalized Flipboard edition. All the tiles visible on the app's main interface can be maneuvered, meaning that you can reposition them anywhere on the magazine as you wish. For this, long press a tile, and using the drag-and-drop gesture, place them anywhere you like.
You can favorite/like a news story that has flown in from one of your social media. Plus, you can also post status updates to your Facebook Wall and Twitter Timeline straight from within the app, and reply/retweet to, and comment on various content shared by your Twitter friends. In addition, you can natively share the link of a news story, bookmark it to read later, view it on its original web source, and share it via mail.
Last but not the least, the only additional feature in the app's Android variant, the homescreen widget. The widget is pretty simple as of this writing. It comes in two sizes (4×2 and 4×1) displays the latest story and lets you sift through stories by pressing a small refresh button in the bottom-right corner.
The delight of experiencing Flipboard on a Galaxy Nexus apart, in complete honesty, I must admit that the app does suffer a slight lag, especially while flipping through pages. Though, what was more alarming than that, was that it seemed to be leeching battery at quite a pace.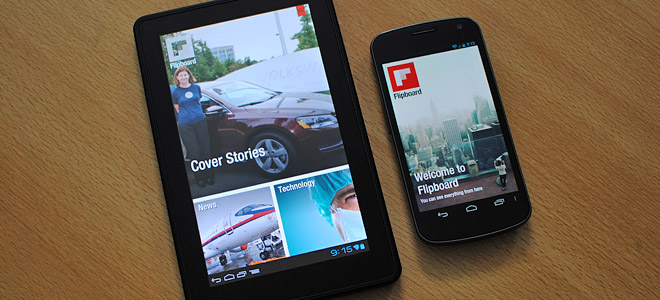 Though, that doesn't change the fact that it is a peach of an app, regardless of whatever minor issues it might currently have, we would suggest you head over to the XDA forums to grab your copy of the APK. We would love to know your first experience with Flipboard on Android, and your opinion on how it will fare in the Play Store once it is officially released.
Update: Filpboard is now officially available on the Play Store and supports the addition of Google+ feeds. You can download it to your phone from the following link.
Update 2: Version 1.9.19 of Flipboard for Android brings the DayDream support to allow Android 4.2 Jelly Bean (or higher) users enjoy all the latest stories offered by their favorite news reader app in screensaver mode while their devices are docked.
Download Flipboard for Android