Football Fans: Virtual Soccer Stadium For Soccer Lovers [Android]
Football Fans by Vubooo is a free Android app that a hardcore soccer fan can simply not afford to miss regardless of whether they're attending a live game in the arena or viewing one on their television sets. The app provides you with a perfect platform to cheer for your favorite soccer team while booing the opponents during a live match. Using the app, you can post your thoughts on any ongoing or upcoming games, check-in to your favorite matches, follow your favorite teams, get real-time alerts of events during live games, and view the results of recently concluded ones. You can also view team formations, chants, comments and thoughts of worldwide soccer fans, invite your Facebook/Twitter friends to join in the fun with you, and lots, lots more. Be it the UEFA Champions League, Italian Seire A, German Bundesliga, English Premiere League, Spanish La Liga or Ligue 1, this app helps you stay in touch with all the scintillating football action from around the world.
Football/soccer apps are aplenty in the Android Market but not all present the fans with a chance to shed their thoughts on a live match minute by minute. This is what makes Football Fans By Vubooo so special. It's an app which is truly made for die-hard soccer fans who love showing their support for the game in general, and their favorite team in particular.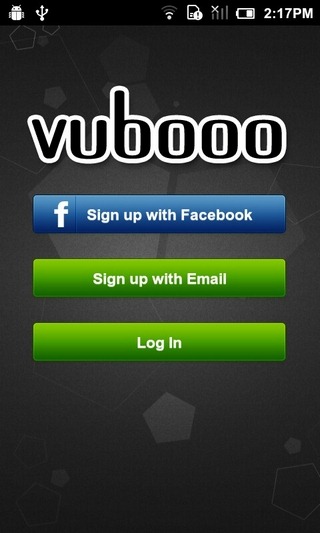 To start using the app, you must log in with your Facebook or Vubooo account. Users also have the option to sign up with their email addresses.
The interface of Football Fans is also quite neatly designed. Among all the various tabs present on the app's homescreen, the Live tab is the most important. Provided there's a live match going around in some part of the world, this is where you'll get all the up-to-the-minute updates, chants, scores and all, and get a chance to indulge in a mini-battle of your own with fans of the opponent team via real-time comments, cheers and boos.
The Buzz tab is more about sharing your personal thoughts, letting others know of your availability for an upcoming game, posting verbal challenges for other users prior to a match, and keeping an eye on their activities.
The Matches tab is where you get personalized recommendations for games worth watching. In addition, you can also view all upcoming matches as well as those that you plan to attend (Attending).
The Teams tab lists all the top teams from various soccer leagues. You can add yourself to the list of fans of a particular team by following it. You may also start following a particular fan and their activities.
To check out your own Vubooo profile, tap the Me tab. From the same screen, you can start inviting fans from your Facebook, Twitter accounts or mail contacts.
To access the app's settings and/or inbox screen, just tap Menu and select the required option. While the inbox screen displays your personal Vubooo messages, the settings screen can be used to enable/disable the app's notifications.
Download Football Fans By Vubooo for Android