myCollection: Manage All Your Media & Auto-Update Information From Web
myCollections is an open source application to help you manage your Apps, Books, Games, Movies, Music, NDS, Series and other types of media under separate tabs. The application allows you to view all or just some of the tabs, depending on your preference, and shows detailed information about each selected media item. You can apply various filters to displayed content, such as View Files with Cover, Without Cover, Complete, Not Complete, Heard, Not Heard etc, and different views such as Card View, Covered View, CoverFlow View etc. It comes with a built-in duplicate checker and a tool to automatically download media information from the web. Moreover, myCollections has multi-language support, and offers different skins to choose from. More on the application after the jump.
As mentioned earlier, the application has tabs for different categories, such as Apps, Books, Games, Movies, Music, NDS and Series. The Zoom bar at the bottom allows you to instantly zoom in and out of the album view according to your preference. The application displays media along with available information and album art.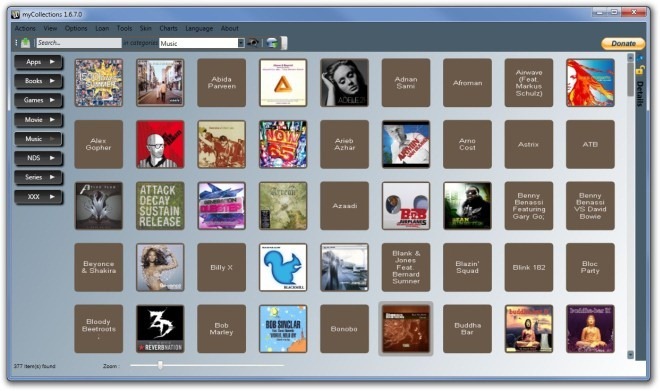 To add media to the application, click Action at the top-left and select Add > Add Media. In the Add Media window, enter the Media name, select Type and enter the Path of your collection. Define Search Pattern and click Finish once you are done.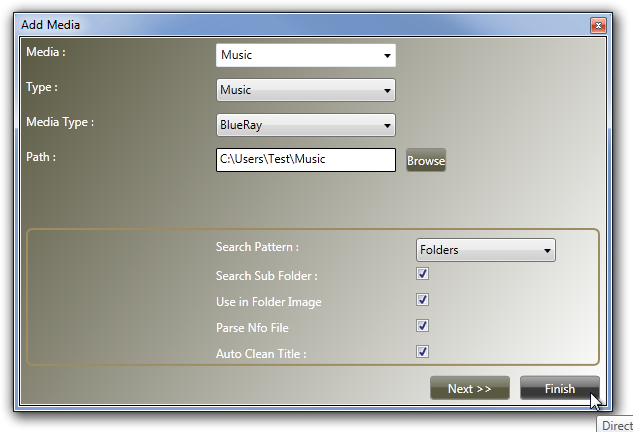 The application allows you to change Skins, Language and Viewing options from their respective menus at the top. You can either set filters for viewing different types of items, or change the view type (Cover View, Cover Flow View, Cube View, Artist View etc) to see different types of details about items.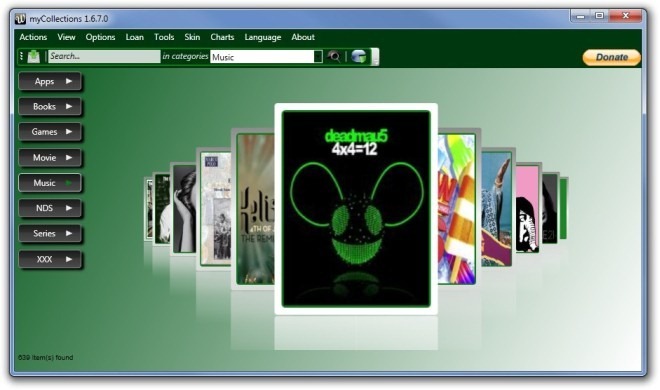 The Tools menu has a Database manager, a Duplicate File Finder and a utility to automatically update information about the library items from the web. Once the information is downloaded, details about each item can be viewed by selecting a file and moving the mouse cursor to the right side of the application.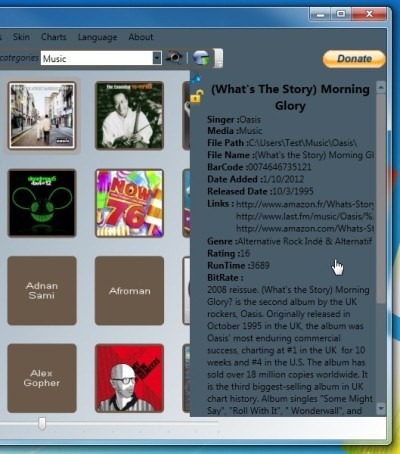 myCollections also lets you edit media information, such as Title, Artist Name, Comments, Bitrate, Comments, Tvix Cover, Web Update source etc.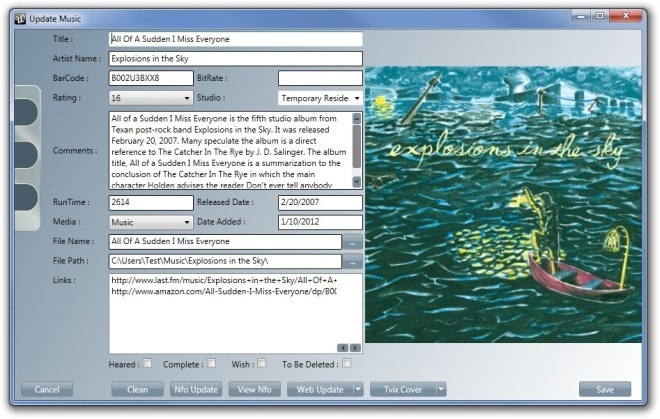 Even though the application has a lot of useful options, it is far from perfect. While testing the application out, I found it to be a bit laggy when switching between different tabs, menus and views. In addition, the process of information extraction from the web seemed very slow. myCollections works on Windows XP, Windows Vista and Windows 7.