Full Screen Launcher: Homescreen Replacement With 3D Folders [Android]
Love tinkering with the looks of your Android's screen? Try Full Screen Launcher – a free homescreen replacement app for Android that takes an altogether different route to display your homescreen and the various contents that are present on it. Apart from sporting graphically appealing UI and a brand new concept of merging various homescreens into one large, unending wall, all packed with contacts, shortcuts, widgets et al, Full Screen Launcher provides you with 3D folders that are displayed on your screen as rotating cubes, whose each side carries thumbnails of the content that is present within.
What's best is that you can even place widgets, as well as contacts, within those folders, and access them in the same way as your homescreen or app drawer.The eye-catching animations and transition effects while navigating to various segments of the launcher and reflection of all the icons at the bottom of the screen are nothing but sheer feast for the eyes. The ability to zoom in/out of the walls (screens), effective support for the launcher in landscape/portrait orientation and the extension of all the elegant animations/effects to the app drawer are some of the other highlighting features of Full Screen Launcher.
It's been a while since we last stumbled upon a homescreen replacement app of note. However, Full Screen Launcher instills a breath of fresh air to your Android screen, and presents you with a chance to view all your homescreen elements on a single unified wall that is backed by OpenGL rendition support to enhance the display quality of various icons, 3D folders and the overall graphical interface itself.
Long pressing on a vacant spot on homescreen lets you pick from Shortcuts, Widgets, Wallpapers and New folder. To call/text a contact or to view their contact details, just tap their thumbnail and pick the required option from the dock bar at the bottom.
From the app's settings screen, (tap Menu > Settings) you can tweak various design, behavior and general options of the launcher. For instance, you may select a preferred mode of Tile decoration (colored/black & white, full screen, with/without displaying icon texts), enable/disable dock bar, tiles reflection or clear app's cache.
All the beautiful and stylish aesthetics of the app aside, Home Screen Launcher, on the downside, force closed several times during our brief trial run, especially while navigating in/out of folders and while adding various widgets (News & Weather, Twitter etc.). Also, the app, as of now, does not support adding bookmarks and other commonly used content as homescreen shortcuts. Still, provided it's free, and a relatively fresh concept among other alternative homescreen launchers, you could take Full Screen Launcher out for a spin.
The free version of Full Screen Launcher displays Ads at the top of your screen. However, a Pro (paid) version of the app is present on the Market that can be availed to lift this restriction for a mere $2.82.
UPDATE: The latest version has removed the ads from the free version. Also, the pro version now costs $2.53.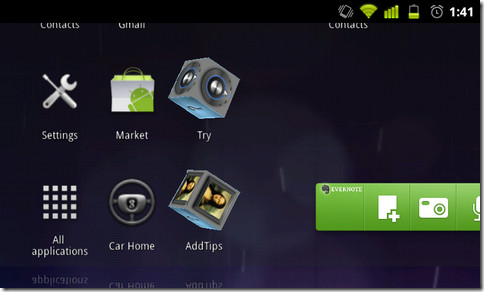 Download Full Screen Launcher for Android (Free)
Download Full Screen Launcher PRO for Android (Paid)