Gain S-Off On HTC Desire GSM With AlphaRev 1.8 Custom HBOOT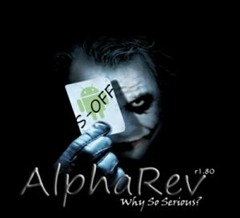 S-Off is a flag on Android phones that stands for security off. It disables the default read-only lock set on /system and /recovery partitions and enables you to directly replace system files and flash custom recoveries when other automated methods aren't an option. You can now gain S-Off on your HTC Desire GSM with an HBOOT reflash, courtesy AlphaRev 1.8 Custom HBOOT.
Disclaimer: Please follow this guide at your own risk. AddictiveTips will not be liable if your device gets damaged or bricked during the process.

WARNING: This method will NOT work on the CDMA version of HTC Desire.
Gaining S-Off on most Android devices is quite straightforward as it involves merely tinkering with the radio ROM and replacing it with one that has the security flag removed. On the HTC Desire though, HTC has used some advanced mechanism that does not let you use the conventional method, and that's where this hack comes handy. Basically the HBOOT detects whether the security flag is on or off and AlphaRev 1.8 is a custom HBOOT image that you can install and it will always detect the flag as off regardless of its always on state.
While the developer of AlphaRev ieftm did an excellent job at building this tool, he did not give any instructions or guide easy enough for newbies or even many experienced users. I myself had to look for other resources for help with what I was supposed to do with the download from AlphaRev's site, until I came across an excellent guide written by XDA-Developers forum member AndroidGX.
The method uses a Live Linux CD/DVD/USB to set S-Off so you will either need a writeable CD/DVD and a computer with a CD/DVD writer, or a USB drive and a computer that supports booting from USB.
To flash the AlphaRev 1.8 custom HBOOT to your HTC Desire and gain S-Off:
Make ABSOLUTELY SURE to take a nandroid backup of your phone before proceeding. I did not do that and couldn't boot into my ROM after this process. Fortunately, I had a nandroid backup taken a couple of days back so I only lost the changes I had made to my phone in the past two days. If you are unfamiliar with it, refer to our guide on how to perform and restore a nandroid backup.
Download the AlphaRev 1.8 HBOOT reflash utility from the link given below.
For CD/DVD users:

Burn the downloaded 'alpharev.iso' file from Step 1 to a blank writeable CD/DVD.
Turn your computer off and boot it from that CD/DVD.

For USB Drive users:

Download Universal USB Installer from the link given below and run it.
Click 'I agree' on the license agreement.
From the dropdown, select the last option: 'Try Unlisted Linux ISO (New Syslinux)'
Click 'Browse' and select the downloaded 'alpharev.iso' file from Step 1.
Plug a blank USB drive into your computer and select it from the drop down box.
Tick 'Format Drive as Fat32'. Warning: All data on the drive will be lost.
Click 'Create' and confirm the several prompts that you'll get.
Wait till the USB drive is prepared and then click 'Close'.
Turn your computer off and reboot it from the USB drive.

Wait for your computer to boot into the Live Linux system on the CD/DVD/USB Drive and press any key when prompted.
If you get asked whether you also want to flash the custom ClockworkMod AlphaRev Recovery 2.5.1.8, select 'yes' unless you are absolutely sure you want to keep your current recovery.
Connect your phone to your computer via USB while it is powered on normally.
Wait patiently while the S-Off procedure is performed. It may take a while. Do NOT do ANYTHING on your phone or your computer before the process finishes and prompts you about it.
Press enter to reboot your computer when the process has finished. Make sure to set it to boot from the hard disk this time to get you back into Windows. Eject the CD/DVD/USB drive before rebooting.
Congratulations! You now have S-Off on your HTC Desire. I just followed these steps to get it on mine so I know that it works 100%. As I previously mentioned, I could not boot into my ROM after this process and many others experience this issue as well. This is not a problem at all if you have taken a Nandroid backup before proceeding with this method. Just restore your Nandroid backup from recovery and you'll have everything back, with the S-Off that you just achieved still in place.
For methods using other tools like VMWare and VirtualBox, or for help with any issues that you face, head over to this XDA-Developers forum thread.
Download AlphaRev 1.8 Custom HBOOT for HTC Desire GSM
Download Universal USB Installer