Gain S–OFF On HTC Incredible S With AlphaRevX
Finally there is some great news for HTC Incredible S users as AlphaRevX S-OFF application is now available. Performing S-Off on HTC Incredible S will allow users to root their device, flash custom Recovery and ROMs. For those of you who don't know, S – Off stands for Security Off on Android devices.
We don't have an Incredible S test unit, but as AlpharevX S-Off is also intended for HTC Desire, Desire CDMA, Wildfire and Aria, so we were able to test it on our HTC Desire. We believe that same set of instructions will apply on every compatible device.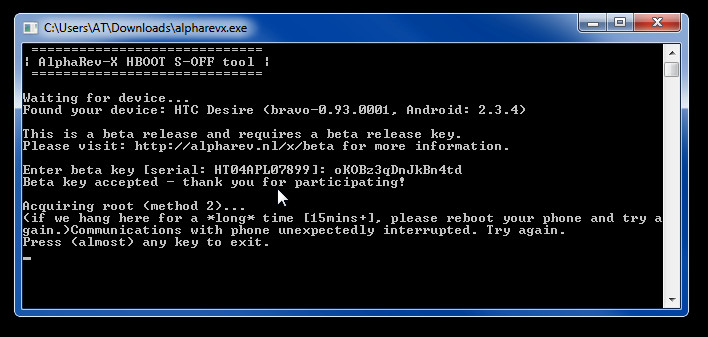 Here is the step by step guide to achieve S-Off on your HTC Incredible S using AlphaRevX:
Disclaimer: Please follow this guide at your own risk. AddictiveTips will not be liable if your device gets damaged or bricked during the process.
The first step is to make sure that you have ADB installed on your PC. You can refer to this post for complete instructions to install ADB on your PC.
Now download and setup HTC Sync software on your computer and sync your phone. This will download required device drivers.
Once the drivers are installed, keep the drivers and remove HTC Sync from your PC.
Now download AlphaRevX from here, unzip the archive and save the files on your desktop for ease of access.
Now connect your phone to the computer, mount as Charge Only and enable USB Debugging. You can enable USB debugging on Incredible S by going to Settings > Manage Applications > Development.
Once you are done, double click on AlpharevX.exe to launch the program.
After AlphaRev  identifies your device and asks for Beta Key, copy the device serial number in brackets and use the form at AlphaRevX to generate beta key. Click on Windows download option and enter the serial number in the form that opens after download begins.
Once you have the Beta key, input the key and you will get a Beta Key Accepted message.
After this the application will start the S-Off procedure which should complete within 90 seconds. If it doesn't then wait for 15 minutes and try the method again from start.
And there you go! You now have S-Off on your HTC Incredible S. Please note that there aren't any reports of device bricks, but as the software is still in Beta, so it is advisable to proceed carefully. After you have S-OFF on your device, head to the XDA thread here to install ClockworkMod recovery etc.