Get Free Voice-Based GPS Navigation On iPhone 3G & 3GS
Free voice-based turn-by-turn navigation solution has been a hallmark for Android devices, with the wonderful Google Maps software. Nokia also followed suit, announcing a similar offer for its smartphones. Now iPhone users can also jump on the bandwagon with the latest release of AOL's MapQuest 4 Mobile. Yes, the software now offers basic voice guidance and off-route assistance warnings.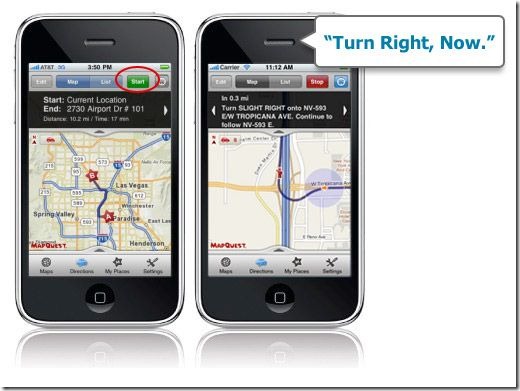 The application has added quite a few features, and will now tell you when you need to take a turn, or you can alternate the voice with a sound prompt. It will also warn you if you get off-track or take a wrong turn, and offers assistance in getting back on the right route. It also provides a pedestrian mode and keeps it light on your battery through advance power management features.
Some other features include easy finding of POIs, saving maps and routes on MapQuest.com and retrieving them on your iPhone, free form search etc.
The application is available free from the iTunes AppStore. One limitation, however, is that it is available only in the US store, and so far seems to work only with US maps.