Get Quick Bookmark Access & Management On Your Android Device
All Android devices come with excellent stock browsers, combining speed and performance. However, one ground where they lose is bookmark management, offering poor, unsorted lists, unnecessary wait times and what not. With the information downpour that the internet is, bookmarks become an integral part of one's online life, and Android's native system is a nightmare.
Apparently such were the thoughts of XDA Developers member Ben74, who decided to write his own application to counter Android's poor bookmark management. Called 'Bookmarks', this application allows you to view your browser bookmarks sorted through several different, criteria, lets you search by name, allows modification and deletion and even the option to choose which browser to open the bookmarked link with. It also supports swiping gestures.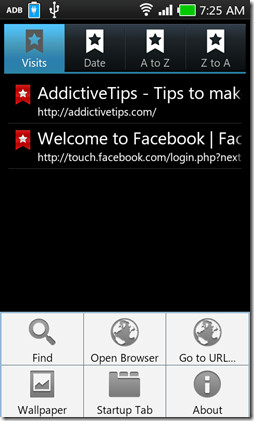 The application will allow you to sort bookmarks based on Visits, Date, or A to Z alphabetically and vice versa. You can also set one of these classifications as your default startup option. Another novelty is adding a background image to the application itself, which can come either from the gallery or using the system's default wallpaper.
The application holds promise for those who depend on and use bookmarks heavily. It is still in testing phase, so the developer has not released it to the Android Market yet. You can grab it from the original XDA thread link below, or you can grab it here, but you won't be getting the most latest version always.
Bookmarks Official Thread On XDA-Developers