Give Your Android Phone Windows Phone 7 Look With X2K2 Tile Icons
X2K2 Tile Icons allows you give your Android phone a look pretty similar to Windows Phone 7 user interface. The credit for these WP7 like icons for Android goes to xero2002, senior XDA member and developer. The package so far contains 220 icons that pretty much cover all the native apps on your Android phone's homescreen.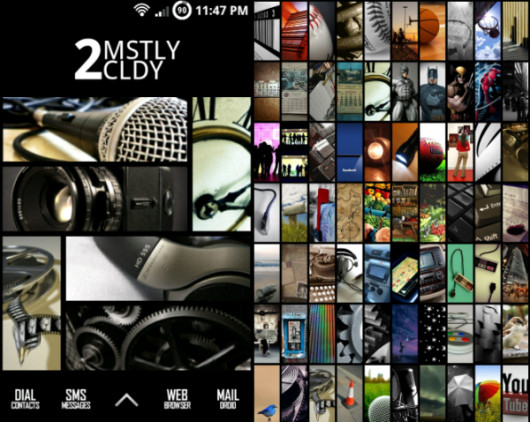 The icons are optimized for best performance on 800 x 400 screen resolution phones such as the Samsung Galaxy S. Apart from this, these icons will only work on homescreen setups that are 5-Rowed like ADW and LauncherPro. The package is so well configured and integrated that you won't have to resize these icons and so far they work seamlessly with notification bar. In case you are planning to use the tiles without notification bar, then don't do so. As according to the developer, the icon pack is supposed to work with notification bar only.
Here are the features of this WP7 like icon pack for Android Phones:
220 icons so far (Covers pretty much everything you need, always room for more though)
Designed for 800×480 screens (Tested on Samsung Galaxy S)
Designed for 5 row homescreen setup (LauncherPro or ADW) (Otherwise the layout gets screwed!)
Designed to be used with Notification bar (Otherwise the layout gets screwed!)
To be applied with Desktop Visualizer (Can be found on the Market for free)
Includes various tiles (1×1, 1×2, 2×1, 3×1, 4×1)
Several versions for each icon
Clean look, no icon names
No resizing required (No need for LauchnerPro Plus)
Precisely measured
Taking requests for more icons (Also still working on more…)
Source pictures grabbed from various places (Props to the original creators!)
Inspired by Windows Phone 7

Resolutions used
1×1 = 110x122px
1×2 = 115x264px
2×1 = 230x124px
3×1 = 355x124px
4×1 = 475x124px
More versions might follow
Spacing between icons horizontal/vertical = 10px
In order to apply this icon set on your current Android device, you will need to download Desktop Visualizer on your phone. Desktop Visualizer is available in the market for free. You can head over to the official XDA thread for detailed installation instructions plus support and download.