GO Launcher EX For Android Gets Task Manager & Contacts Widgets
The Go dev team has been extremely active the past few months, releasing one quality freeware after another in Android Market and, as it seems, they don't plan to go on a break any time soon. The team has now begun to add to their impressive app roster, free widgets for their highly acclaimed home replacement app, GO Launcher EX (which has been updated to accommodate said widgets).
"The first two GOWidgets", namely Task Manager & Contacts, have been released to the Market and judging from the first line of the updated launcher's changelog, we will probably be seeing more in the coming days. These widgets can be downloaded directly from the Market or from within GO Launcher EX, provided it is updated to the latest version.

To download a GOWidget or to add one to your homescreen, hold down on an empty space on the screen and select GOWidget from the context menu that appears. The Task Manager GOWidget comes in 1×1 and 1×4 sizes and unlike most task manager/killer widgets, is easy on the eyes. The 1×4 size displays icons for apps running in the background alongside a memory meter, allows you to refresh said meter and kill all running apps with one tap each.
Please note that we do not believe in Task Managers because Android, by default, handles the tasks quite well. Using 3rd party task managers can actually drain your battery pretty quickly.
The 1×1 Task Manager widget displays an animated analog memory meter sporting a single button that closes all running apps. The Contacts GOWidget too, comes in two sizes – 2×4 and 4×4.
The widget allows you to choose whether you want it to display all your contacts, just your favorites or those that are part of a custom group. Unfortunately, as of this writing, it does not support contacts added via Facebook sync.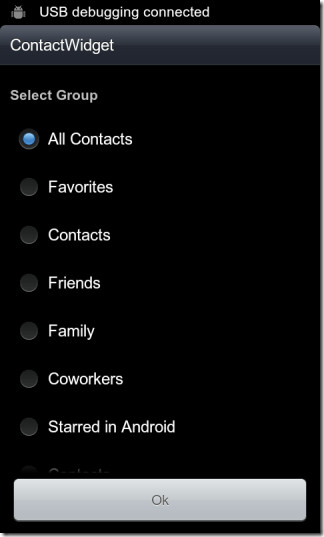 You can download these widgets from within GO Launcher EX or directly from the Android Market via the provided links.
Download Task Manager GOWidget
Update: As was expected from the GO Launcher dev team, they have continued to release widget after widget for their homescreen replacement. As of this writing, apart from the aforementioned Task Manager and Contacts widgets, we now have the following GOWidgets available in the Market:
That's not all. All of these widgets are now skinnable. The Clock GOWidget, in particular, comes packed with quite a few alternative skins.