GO Launcher EX Gets Its Own Switch (Power Control) Widget [Android]
As expected, the GO Launcher Dev Team is back again – barely a couple of weeks after their last endeavor – with yet another handy addition to their acclaimed home screen replacement app. GO Launcher EX now has a downloadable switch (power control) widget. And it's not one of those run-of-the-mill toggle widgets. Switch GOWidget sports a total of 12 toggles, out of which it allows you to select 4 toggles to appear on the home screen. The widget takes after Tencent Switcher and QQLauncher's native Quick switch widget in the way it looks and works but it does have a greater number of toggles and additional sliders for adjusting ringer and media volume levels. More after the break.
The widget only displays 4 toggles at a time on the home screen. Tap the '…' button to reveal all 12 of its toggles arranged in a grid above the aforementioned volume control sliders. The switches in the top row are the ones that are displayed on the home screen. If you'd rather have another set of switches in the top row than the ones placed there by default, tap the Edit button in the top-right corner of the expanded widget to rearrange them. Hold down on a switch, drag and drop it over another to swap their places on the grid.
Apart from the usual set of switches (WiFi, Mobile data, GPS, Bluetooth, Auto-sync, Orientation lock, Brightness, Ringer, Vibration and Airplane mode), the widget sports a a handy Screen timeout toggle that, as its name suggests, allows you to cycle between default screen timeout settings (1, 5, 10 & 30 minutes) and a Lock screen toggle that requires the widget to be granted administrator privileges. Remember, once the widget is set as a device administrator, you'll have to revoke its privileges manually from within Menu > Settings > Location & Security > Device administrators to be able to uninstall it.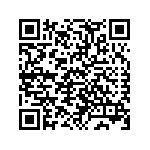 Like every other GOWidget, the widget is available for free on the Android Market. After you've downloaded and installed it on your device, simply long-press on an empty space on your home screen and from within the context menu that appears, select GOWidget > Switch to add the widget.
Sadly, the widget does not seem to be compatible with the lone free widget skin on the Market as of yet. Still, its handier than most of the free, standalone power control widgets out there. Download it now from the Market via the provided link or QR code.