Goods Order Inventory System – Inventory Management App For Android
There is no shortage of apps in the Android Market that are designed specifically for business owners. However, few of them bring as comprehensive a set of features as does Goods Order Inventory System. Initially available to iOS users only, Goods Order Inventory System is now available for Android as well. With this app, you can easily manage and track all your orders, inventory and sales along with availing in-built reporting capabilities for your profit/loss, closed orders and inventory left on-hand. The app offers ample customizability for your inventory management and helps you maintain/trace relevant records in a better and neat manner. Details, screenshots and download link after the break.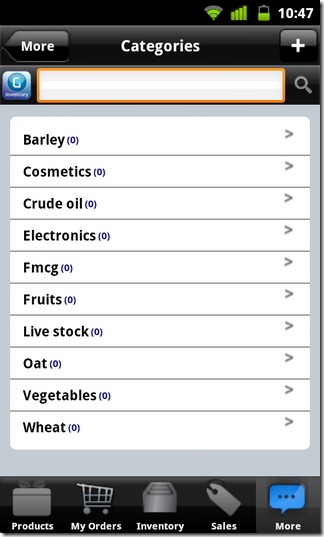 If ever you were looking for an app that could help you manage/trace/report your orders and inventories, this one could prove to be the exact solution. No need to install hectic applications on your desktop or outsource your inventory management tasks. Instead, you can do it all by yourself on your Android. With Goods Order Inventory System, all your inventory-related information and management features are presented through an iOS-like UI that sports separate tabs for Products, My Orders, Inventory, Sales and More (for reporting and customization). By default, the app has just a couple of product categories as examples: fruits and vegetables. However, there is an option to manually add as many categories as you like. To add a new product category, tap on the More tab, select Category, tap the plus (+) button, enter the category name and finally, tap Save.
You can add multiple products under each category by tapping the plus (+) button on the Products tab. Likewise, new products for each category can also be added by pressing the plus (+) button on the relevant category screen that can be accessed by tapping More > Category and choosing a preferred category. The app's search bar is at your service on the Products, My Orders and Inventory screens to help you find the relevant product/category you are looking for.
For each added product, there is an option to select its pertaining category, the product name, purchase & price, unit and the Stock Keeping Unit (SKU) number to trace it easily. Default units and currency can be changed from the More > Settings menu along with an option to toggle Track Sale By Inventory option on/off. Swiping left-to-right on a product lets you delete it whereas swiping in the opposite direction takes you to product's description page. To Delete All products at once, tap Menu > Delete All.
Under the My Orders tab, you can view, sort and filter all your orders, list all your shortages and mail it to your wholesaler for fulfillment. You can also create an inventory for a selected order. Just tap on a product of your liking, select Yes to launch the Add Inventory menu and feed in the required details. The app informs you of all the inventory that is available on-hand, how much came in and how much actually went out during a specific period.
The Inventory tab lets you manage your inventories. You may add fulfill orders from My Order tab (just mentioned above), specify quantity of inventories left on hand and track those available for sale. From this tab, you may also define purchase price and default sale price that are to be used in reporting for the calculation of profit/loss. From the Sales tab, you can easily add and track your sales (by inventory or by sales).
Apart from letting you customize your product categories, user profile and app settings, the More tab lets you report your miscellaneous inventory information such as Profit and Loss, Closed Orders and Inventory On-Hand to the concerned bodies via email.
In short, you have ample control over your entire inventory management system on your device with Goods Order Inventory System. The best part of the entire deal: its available in the Android Market absolutely free of cost.
Download Goods Order Inventory System for Android