Google Earth For Android Updated, Full Tablet Support Added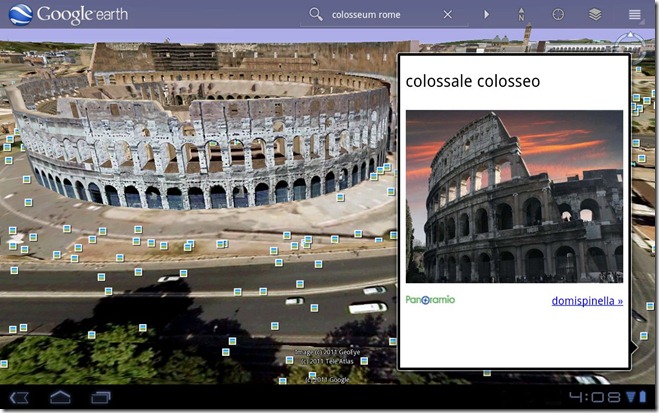 Google has just released an updated version of their popular Google Earth app for Android, bringing fully optimized tablet support for devices running Android 3.0 Honeycomb or later. The update makes browsing through the globe in 3D a pleasure on the large screens of Android tablets. For more information, read on.
We love travelling but the love isn't exactly shared by our pockets, wallets and bank accounts. That's why Google Earth is a dream come true for every aspiring Marco Polo or Ibn-e-Batoota on a budget and while the desktop version is great, the mobile version is even better to carry the whole world in your hand while on the move. Though when it comes to tablets, the Android version had failed to utilize all that extra screen real estate. Not anymore, as this update makes use of every single extra pixel and it looks great!
While the update is available for all devices running Android 2.1 or later, the screen real estate benefits are intended only for tablets running Android 3.0 Honeycomb or later. Officially, this means only the Motorola Xoom at the moment but there have been several unofficial ports of Honeycomb to other devices, and then there are all the upcoming devices that will be shipped with Honeycomb.
One of the key features of this update is fully textured 3D building support, the way it has been on the desktop version of Google Earth. This brings a plethora of important buildings, historical locations and other landmarks to the Android version, letting you explore them as if you were visiting the location.
The new tablet interface makes it possible for you to not only get a larger and hence better view, it also lets you view content pop-ups within the same view without having to switch back and forth between imagery and content views, as depicted in the above screenshot taken from the official Google Blog.
Another improvement is the inclusion of a new action bar on the top that gives you quick access to search, select layers to display and even fly to your location from the current view! The layers provided include Places, Panoramio photos, Wikipedia and 3D buildings.
Google Earth can be installed from Android Market and if you already have it installed, you can manually update it from your list of installed apps in the Market. A manual update is required because this newer version has updated permissions.
Install Google Earth for Android