HeyCheck For Android & iPhone: Apply Effects & Filters To Local, Facebook & Instagram Photos
Social media giant Facebook might have acquired the photo-sharing and editing wonder Instagram, but so far, users haven't been able to see any worthwhile impacts of this acquisition. However, with the slew of extremely feature-rich photo editing and sharing apps for Android and iPhone already floating in the market, users can easily make do without having to rely on Facebook to come up with a solution of their own. Options are aplenty, and picking a favorite photo editor can sometimes prove to be a pleasant activity. If you want a neatly designed app that lets you apply gorgeous effects, retro filters and catchy frames to photos from local storage, Facebook and Instagram, then you try HeyCheck for Facebook.
The app has been available to iOS user for quite some time, and now it's time for Android users to import, decorate and share their local and online photos via HeyCheck for Facebook.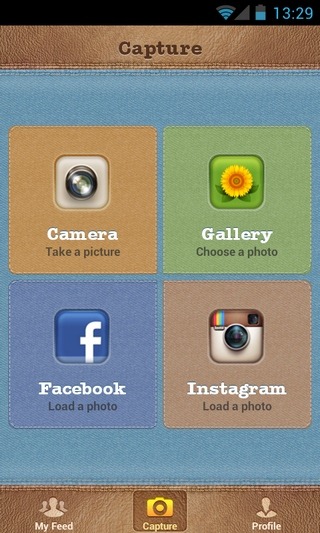 The app's main (denim-textured) interface is comprised of a total of three main tabs that are aligned horizontally at the bottom of the screen. Using these tabs, you can check your latest HeyCheck photo feeds, explore your HeyCheck Profile in detail, and avail the app's various image importing options. In this regard, you have the choice of snapping a fresh image, or importing an image from your device's local storage, Facebook or Instagram albums.
To help you in finding the required image from within the supported storages, the app presents you with a full-screen photo explorer interface that lets you instantly switch between images with a mere tap. Once you've got the required image, you're taken to the app's image editing interface, from where you can opt to share it directly on Facebook with a custom title and emoji icon of choice, or first apply some gorgeous effects, filters and frames that HeyCheck offer for your photos. Here's the list of all the various photo ornaments supported by the app:
Frames: Simple White, Leather, Cheshire Cat, Scrapbook, Bamboo, Beach, Cuty star, Kitchen, Stamp, Kimono, Wood board, Candy, Halftone, Spring, Old album,Book, Cardboard, Watercolors, Old Paper, In love.
Color Effects: Noise, Halftone, Fabric, Leather, Cardboard, Shabby glass, Old photo, Rain, Snowflake, Film, Speedlines, Puzzle, Antiquity, Dark green, Starfall, Rainbow, Sunbeam, Bokeh, Flying hearts.
Filters: Sweet dream, Avatar, Neon, Sketch, XPro, Bliss, Summertime, Nostalgia, Texas, Balck & white, SC Yellow, SC Green, SC Blue, SC Red, Bright, Sepia, 70-s, Lomo, Retro, Sunlight.
While most of the features presented in the Android version of HeyCheck for Facebook work as a charm, one thing that parts it from the iOS variant is the lack of support for viewing your Facebook friends' birthdays on a calendar, as well as the option to explore your Facebook/Instagram on map. That's not a big deal, as the future updates might well be bringing all the missing, and hopefully, additional features.
Download HeyCheck for For Facebook for Android
Download HeyCheck for For Facebook for iPhone, iPad, iPod touch