How To Access App Switcher From Lock Screen In iOS 5 [Cydia Tweak]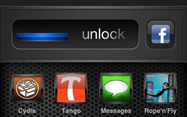 Fanboyism aside, let's face it, iOS 4 and above brought the sweetest multi tasking App Switcher that can be found on smartphones today. It's quick, convenient, and fluid. There's a new Cydia tweak available for iOS 5 that now lets you access the App Switcher straight from the lock screen, and whether it serves a purposeful function or not, boils down to how you use it. Some can see it as a fast way of launching their favorite apps that are left running in the background. The tweak named LockScreen Multitasking integrates with the lock screen without any major hurdles. More on it after the jump!
The tweak has no settings to offer, no icon, nothing. Once installed, simply go to the lock screen and double tap the Home button to bring up the App Switcher.
The tweak works as it should even if you have Passcode enabled on your lock screen, but that does not in anyway mean that tapping an app will bypass the Passcode. Once you try to launch an app, you will be asked for the Passcode. While the tweak is well adapted to such a need, double tapping the home screen was meant to bring up the Camera Shortcut button, but most importantly the Music playback controls, and this new tweak clearly hinders that purpose. However, tap on the screen once after double tapping the home screen and you will have access to the playback controls. If you can adjust to that, then go ahead and try this tweak out for yourself.
You can find this tweak for free at the Modmyi repository in Cydia, or you can simply search for the tweak using the Search tab. Once installed, you will be asked to restart the Springboard, so make sure you do so.