How To Create a Gold Card For HTC Tattoo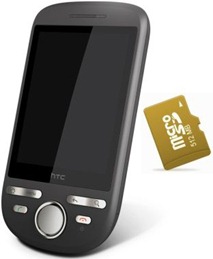 If your HTC Tattoo is sim locked, you need to create a Gold Card for your phone if you wish to root it or install custom recoveries and ROMs to it. While tutorials are available on how to create Gold Cards for HTC phones, there is none that is specific for the HTC Tattoo. Things on the Tattoo work a little differently then on other Android based HTC phones. For a detailed instructions on creating a Gold Card for the HTC Tattoo, read on!

Disclaimer: Please follow this guide at your own risk. AddictiveTips will not be liable if your device gets damaged or bricked during the process.
Requirements:
A micro SD card of at least 1GB along with an adapter that allows you to connect the card via usb to your PC.
ADB installed on your PC. See our guide on how to install and use ADB.
HEX Editor installed on your PC. Download HXD.
Procedure:
To begin, insert the memory card into your phone.
With the memory card in your phone, navigate to Settings > SD and Phone storage and then select Unmount SD card.
Once the card unmounts, select Format SD card. (Be sure to make a backup before formatting.)
Navigate to Settings > Applications > Development and check USB Debugging thereby turning it on.
Now plug the phone into the PC and run Windows Command Prompt. Once the command prompt is running, enter the following commands, hitting enter after every command:

adb shell
cat /sys/class/mmc_host/mmc1/mmc1:*/cid

A code will be displayed that you should note down. Please make sure you make no mistake writing it down.

After noting down the code in Step 6, visit this site: https://hexrev.soaa.me/.
Input the code you wrote down in the box and you will receive a generated code. Note down the generate code somewhere.
Now visit this site: https://psas.revskills.de/?q=goldcard.
Write down your email address in the appropriate field. As for the CID field, use the code that was just generated and noted down in Step 7.
REPLACE the first 2 digits of the code with two zeros. For example, 12345678 becomes, 00345678.
Click on Continue and you will receive your goladcard.img via email.
Now using your adapter for the memory card, plug it into your PC and wait for it to show up as a removable disk.
Run the Hex Editor (Run as Administrator if on Vista or Windows 7) and click on the Extra tab.
Click on Open Disk.
Now in Physical Disk select Removable Disk (your SD card you just put into the computer) and click OK.
Navigate to the Extra tab again and click Open Disk Image.
Select the goldcard.img that you saved from your email.
You should now see two tabs: one is the SD card, and the other being the goldcard.img. Click OK when prompted for Sector Size 512.
Click on the Goldcard.img tab and click on the Edit tab and click Select All.
Now click on the Edit tab again and click Copy.
Click on the Removable Disk tab and select offset 00000000 to 00000170, then click on the Edit tab and click Paste Write.
Click on File then click Save.
There you go! Now to test if your Gold Card works, unplug the card form the PC and put plug it back in. If the system detects it as a removable drive and allows you to access it, you have reason to be proud of yourself, as you have managed to bear with us these countless steps of creating a gold card for yourself and be successful at the attempt.