Themes for WP7: Create & Apply Custom Skins To Unlocked Windows Phone 7
Although the idea might seem laughable for now, but looks like Windows Phone 7 is slowly striding towards getting everything iOS has. Barely two days ago, we got WP7's version of Cydia (dubbed Bazaar) and today, the folks over at Windows Phone Hacker have launched the first ever comprehensive theming platform for the metro OS. Themes for WP7 is a desktop application using which you can create custom themes for your Mango phone, incorporating any image and color of your choice.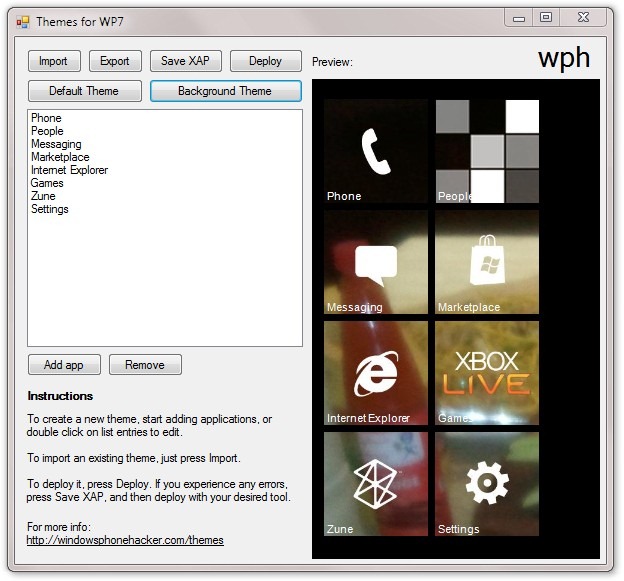 You might be wondering how a desktop app could create themes for WP7. What the application does is that it exports a XAP file for each new theme you create. This can then be deployed easily to your device to apply the contained theme. You don't have to connect your phone to your PC while you are creating a theme. The app allows you to archive the XAP files and then deploy them later.
To get started with Themes, download the latest version of the software from the source link provided at the end of this post, extract the downloaded archive and run the ThemeConfig.exe file from within the extracted folder. Choose an image from the Background theme section to start creating a new theme. You can also make changes to the Default theme.
If you want to add a third-party apps' tiles to the theme, click the Add app button. The application also allows users to make changes to stock themes by importing them into the application. When you are done tinkering with your custom theme's looks, click Save XAP to export it.
Themes comes with a built-in Deploy option, eliminating the need for you to run other tools or manually deploy your themes to your device. Connect your device to the PC, hit Deploy, and voila – your phone gets an instant makeover.
As awesome as Themes for WP7 is, it is only a tool to be used with developer unlocked devices (interop not needed). But if you don't have an unlocked WP7, you can give Skinery a try. It is, by no means, as thorough as Themes for WP7 as it does not make changes to stock tiles, but simply creates Live Tiles of its own to substitute them. Furthermore, it only allows creating themed tiles for stock apps.
Themes for WP7 is a free app. For the download link and further details, click the source link provided below.