How To Decline / Reject Calls Easily On iPhone With EZDecline
Accepting and Declining a call on iPhone has always been an issue with some folks having no idea of how to turn down a phone call during crucial moments. But in case you have already jailbroken your iPhone, you can easily decline a call by installing EZDecline app from Cydia store. This, in my opinion, is a must have if you fear your high pitched ringtone going off during your professional meetings, classes etc. The hack is a simple one and you get a decline button along with answer instead of "Slide to Answer".
We have tested this app on iPhone 3G running jailbroken iOS 4.1 along with iPhone 4 with likewise OS Firmware, and it seriously works like a charm. Another great thing about this tweak is that it allows you to reject a call during sleep mode too.
Here are the step by step instructions on enabling call decline button on iPhone with EZDecline.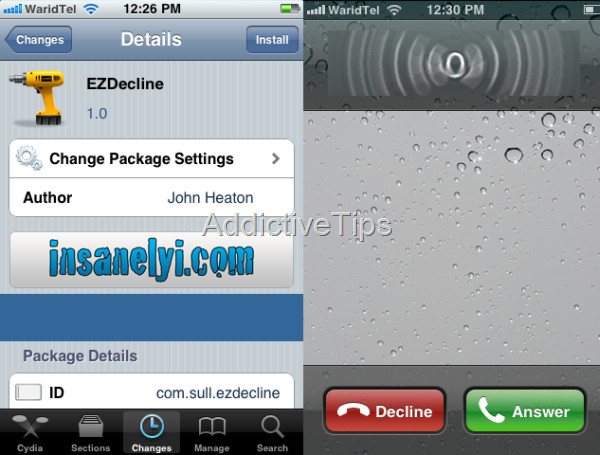 The first step is to launch Cydia.
Now tap Manage and go to Sources and add https://repo.insanelyi.com.
Once the repo is added, search for EZDecline in Cydia Search bar.
Tap on EZDecline Tab and and install the app by pressing "Install" on top left corner.
Wait for the installation to finish and Restart Springboard.
Now take another handset and dial your number, you will be able to see a red Decline Button along with Green Answer. This tweak also works even if you have Passcode locked your iPhone.