Dual Boot Overclocked Android 3.0 Honeycomb On Nook Color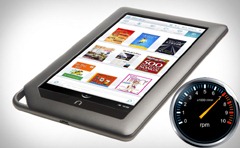 We have previously posted a guide on how to install Android 3.0 Honeycomb and Market on Nook Color and now, we are bringing you an overclocked kernel for you to replace your stock Honeycomb kernel and boost the speed of the device while dual-booting the device, thanks to XDA-Developers forum member rookie1 (who is by no means a rookie).  If you want to install overclocked Honeycomb on your Nook Color, please read on.
Since this is a dual boot setup, it leaves your current operating system intact. Upon booting, you can press the home 'n' key, to enter into Dual Boot and select the operating system you want to use. It effectively turns your Nook Color into a Honeycomb tablet while keeping the original functionality of the device still accessible.
Disclaimer: Please follow this guide at your own risk. AddictiveTips will not be liable if your device gets damaged or bricked during the process.
Requirements:
Dalingrin's 1.1GHz overclocked Kernel for Dual boot Honeycomb (Not available anymore unfortunately; you can find alternative dual boot ROMs and kernels at the forum thread link given below).
Roooted Nook Color with Clockwork Recovery installed. (See our guide on Nook Color Monster RootPack for easy rooting and installation of ClockworkMod Recovery.)
Procedure:
Mount your Nook Color's SD card and copy the Dual Boot Preparation Flash File file to it.
Unmount cleanly.
Power off your device.
Hold Volume Up button and power up again to enter Clockwork Recovery.
Use the Volume Up and Volume Down button to scroll and Home 'n' key to select.
Flash the Dual Boot Preparation Flash File.
This would resize your /media partition, without disturbing any data on it, however to be on the safe side it is recommended to save your data elsewhere.
If your data on the /media partition is larger than 3.9GB, you cannot flash this, therefore it is recommended to backup your data and reduce size to lower than 3.9GB
Repeat the steps to flash the Overclocked Kernel to your device.
Use Power button to go back to the main menu of the Clockwork Recovery and reboot the device.
Hold 'n' button while powering up your phone to boot into dual boot ROM.
Congratulations! You can now enjoy overclocked Android Honeycomb on your Nook Color. Do share with us in the comments your experience and any difference that you may feel in the performance of your device. For further updates and upcoming releases, head over to the XDA-Developers forum thread.