Fix Different Sim Detected In Emergency Mode On Jailbroken iPhone
There have been several jailbreaking solutions for iPhone, iPod Touch and iPad so far but among them all,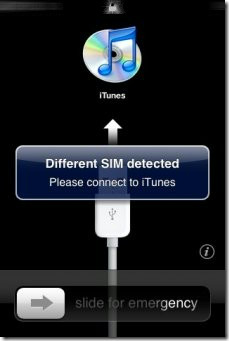 JailbreakMe.com is perhaps the easiest and the most hassle-free way to jailbreak authored by the dev team to date. However there are certain glitches with this jailbreak method as of now. We have been tipped by some iPhone 4 and iPhone 3G/3GS users who got stuck at a "Different Sim Detected, Please connect to iTunes" screen after jailbreaking their handsets on iOS 4.0/4.0.1 with JailbreakMe. Luckily, there is now a solution to this problem, and we've got it right here for you. Details and the complete instructions after the jump.
It can be quite frustrating for you if upon successfuly jailbreaking your iPhone, you get greeted by this "Different SIM detected, Please connect to iTunes" error right on your lock screen when you happily switch it on. It will likely leave you baffled as you haven't even taken the SIM out, let alone changed it to another one.  Many of you might fear that jailbreaking has somehow locked your iPhone's SIM card. While what is happening can be described as something along those lines, it isn't exactly like the conventional SIM lock, and overriding it isn't the same as overriding SIM lock.
To make sure the excitement of jailbreaking isn't ruined for you, and to help you get your SIM detected so that you could go ahead with using all the Cydia apps, tweaks and hacks you want on your iPhone, we've got the fix right here for you. Do note that this fix will involve replacing files on your device inside its system storage, so make sure you are careful to follow the instructions to the letter to avoid any hassles later on. That said, let's get on with it.
Disclaimer: Please attempt this guide at your own risk. AddictiveTips won't be responsible in case your device bricks or any other damage occurs due to this method.
Here is the step-by-step guide on fixing this dreaded 'Different Sim Detected' error on your iPhone 4 and iPhone 3G/3GS after jailbreaking with JailbreakMe.com on iOS 4 and 4.0.1.
First of all, download iFunBox.
Next, download the patched LockDown folder.
Now run iFunbox on your computer and sync your iPhone with this application.
In iFunBox, go to /private/var/root/Library/ and replace the existing LockDown folder with the downloaded patched LockDown folder.
After you have successfully overwritten the LockDown folder, reboot your iPhone.
That should do it – your SIM should now get detected, allowing you to use any SIM card with your iPhone. Enjoy!