How To Fix Distorting Audio In Samsung Galaxy S And Galaxy 3
Owners of Samsung Galaxy S Series or Galaxy 3 devices must have noticed some much annoying audio distortion at higher volumes while listening to music on their phones. It isn't caused  by your earphones or something; it's the phone that is the culprit. Fortunately there's a quick fix for this, and results have been positive thus far. Read on for details.
This fix does not use a tool or anything similar – in fact you can do this through the phone's built-in service menu. Since there's no rocket science to this, let's get on with the procedure:
To begin, enter the Service Mode by entering *#*#197328640#*#* in the dialpad.
You will be presented with various options. You need to select [5]Audio.
After selecting it, you will see a range from Filter 1 to Filter 7. You need to change the values of each one of these filters to 0.
Once done, go back and do the same thing for, [2]Headset, [1]TX value and [3]Tx Filter.
The end result should look something like the screenshot below (picture courtesy of the developer):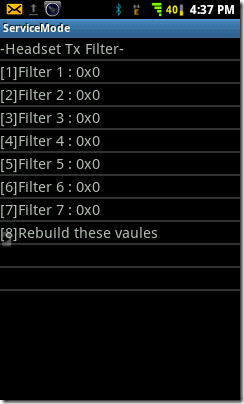 All done, you should be able to tell the difference this time around on higher volumes of audio playback. These settings have been confirmed to stick on reboot for the Galaxy 3 but not the Galaxy S I9000.
If you are running a custom ROM that has no serviceModeApp.apk  and the numbers in the dialpad disappear without anything happening, you will first need to download serviceModeApp.apk and transfer it to /system/app/ using some root level file manager such as Root Explorer (paid) or Super Manager (free), or using the adb push command. Once you have done this, you should be able to follow the above procedure without any issue.