How To Flash Custom Recovery On LG Optimus Me P350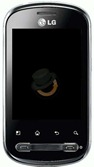 Budget phones, can turn into some really impressive pieces of hardware if the device is running Android. Root the device and users have access to system level files allowing them to make changes to kernels, and even flash custom built firmware's. Of course to do all that you further require a custom recovery. If you own a LG Optimus Me P350 device and have recently rooted it, you can now install the AmonRA custom recovery on the device in no time thanks to XDA-Developers forum member drapalyuk,
Disclaimer: Please follow this guide at your own risk. AddictiveTips will not be liable if your device gets damaged or bricked during the process.
Requirements:
Instructions:
To begin, download the recovery package from the link above and and extract the contents.
Copy the .img file and flash_image to the root of your SD card.
Make sure USB debugging is enabled in Settings > Applications > Development.
Connect the device to the computer and rum Command Prompt or Terminal to enter the follwing commands:
adb push recovery-RA-pecan-2.2.1-GNM-drap.img /sdcard/
adb push flash_image /sdcard/
adb shell
su
mount -o remount,rw -t yaffs2 /dev/block/mtdblock1 /system
cat /sdcard/flash_image > /system/bin/flash_image
chmod 755 /system/bin/flash_image
sync
adb shell
su
flash_image recovery /sdcard/recovery-RA-pecan-2.2.1-GNM-drap.img
sync
reboot recovery
For updates and queries, head over to the forum thread at XDA-Developers.